Enjoying an Evening With The Best of Broadway
Wouldn't you just LOVE to be in the same room as Broadway legends? Yesterday, we had the opportunity to do just that! Dallas Summer Musicals invited us to a spectacular concert with the best of Broadway's performers, to enjoy music, company, and a celebration of young people performing in the arts.
We'll each be taking turns separately explaining our favorite parts, since there was so much to soak in, and we each had uniquely marvelous experiences.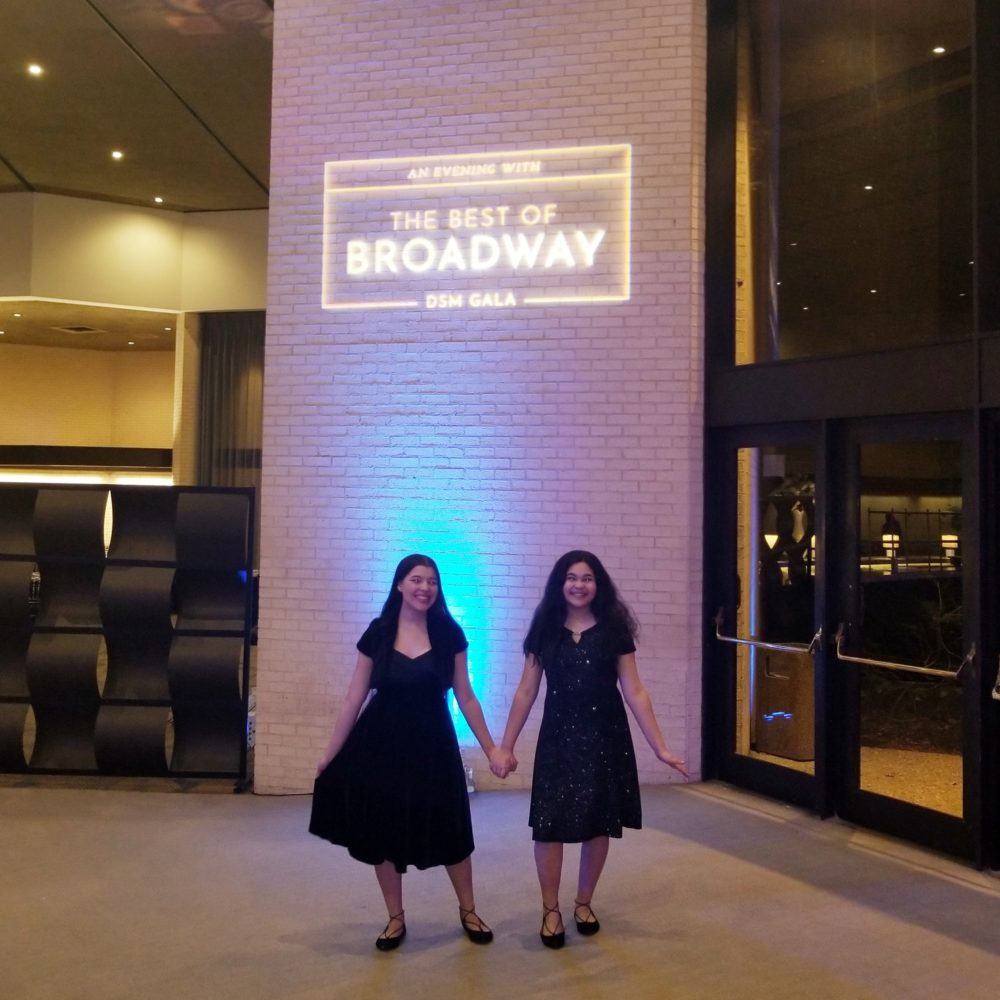 Elisha:
First off, I've been to so many Dallas Summer Musicals performances this year! To list a few, Hamilton, Miss Saigon, Anastasia, Hello, Dolly!, Aladdin, Elf, and even Fiddler on The Roof! I'm really ecstatic about the 2019-2020 season and I am SO looking forward to Dear Evan Hansen (I would love to be there, it's been on my must-see list for ages).
As many of you know, I attended a theatre camp this summer, and it was just an amazing experience. Dallas Summer Musicals has made quite a difference when it comes to young performers.
Through their Education Outreach Program, they've involved hundreds of teens and young people in DFW to participate in and partake in the arts. We premiered a video about the impact Dallas Summer Musicals has had in the community, and we are blessed to be a part of spreading their wonderful message that everyone deserves a chance to be in the arts!
Being in the company of some of the best Broadway actors last night was a once in a lifetime experience. Chita Rivera, our host, was hilarious and has such a joyful personality. She said that young people in art are making the world a brighter and better place, and I could not agree more!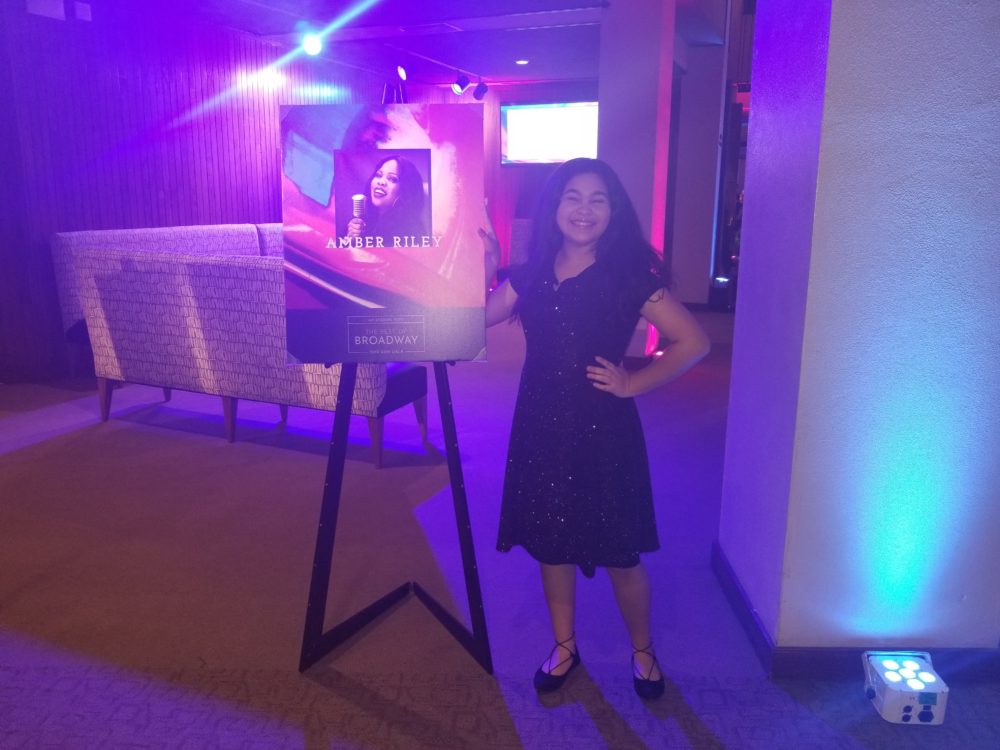 We got to hear splendid music last night, too. I loved hearing Kelli O'Hara sing "I'm In Love With A Wonderful Guy" from South Pacific. It's one of my favorite classics, and her voice is so melodic and gorgeous. She added her charming personality to each song she sang.
I also got CHILLS when Amber Riley sang "I Love You I Do" from Dream Girls. She performed in the 35th anniversary performance of Dream Girls in London (if you haven't seen the movie, please do! I'm waiting for this musical to come to DSM, fingers crossed!). Her voice is powerful, that's the best word to describe it. It has a magnitude and force that is unlike any other.
Also, we got to hear from the queen herself, Caissie Levy, who has the current role of Elsa in the Broadway production of Frozen. She wowed us with "Let it Go" (of course, she had to sing that for us), and a couple other songs. My jaw dropped when they announced her, because she was a surprise special guest.
Finally, hearing the mash up of "You Will Be Found" (from Dear Evan Hansen) and "Seasons of Love" (from Rent, another musical I REALLY REALLY REALLY want to see), was so perfect. A group of 23 students from the DFW metroplex were chosen to perform onstage, and their voices together were beautiful.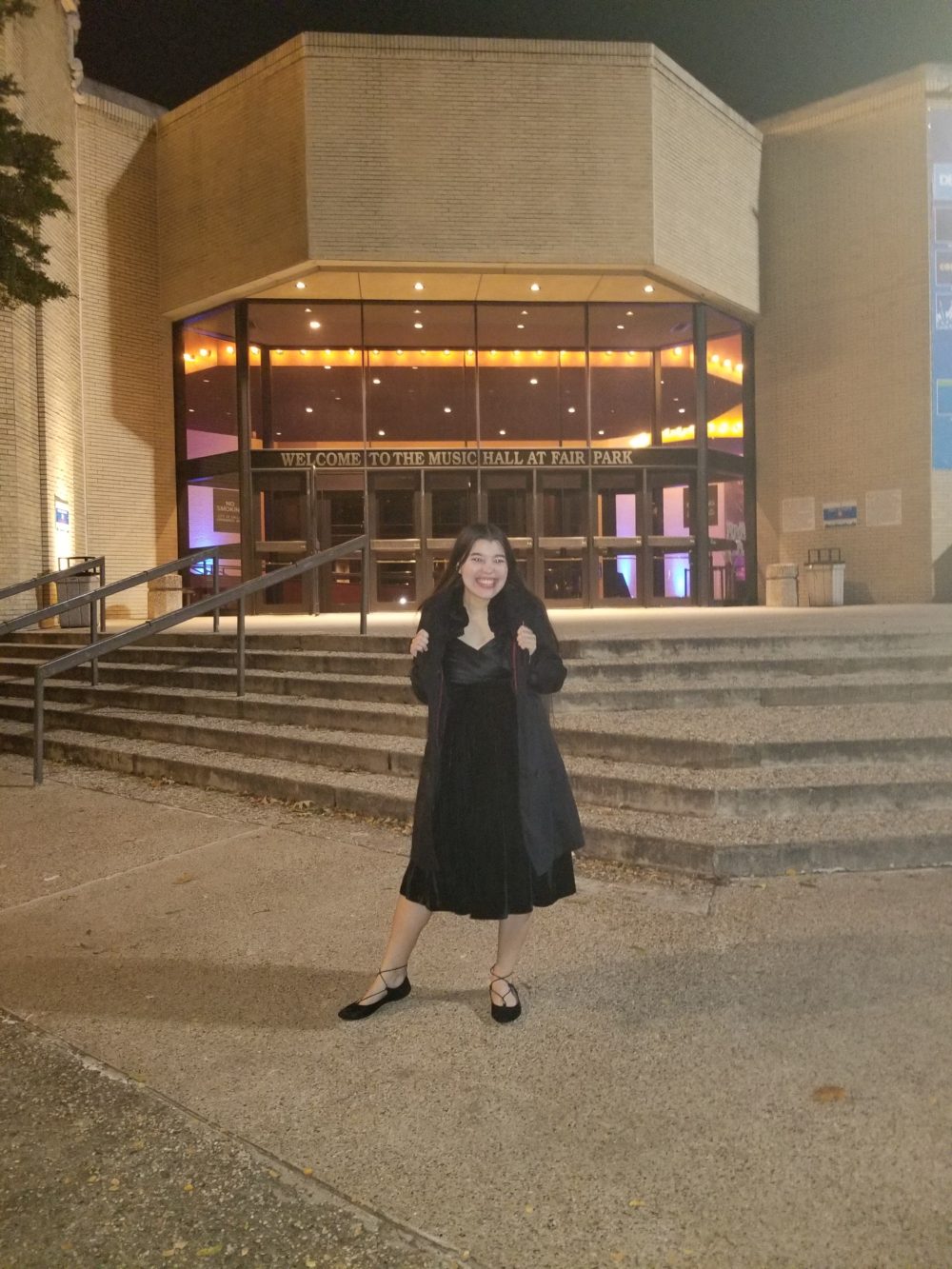 I got teary when Chita, Caissie, Amber, Kelli, and Adam Pascal (from the original Broadway cast of Rent) joined in and sang with the teens. What a special moment. I am so grateful Dallas Summer Musicals invited us, and we got to be a part of a remarkable experience. I am looking forward to going back!
Elyssa:
I really love Dallas Summer Musicals and everything they stand for. A few of my favorite performances I've been to are The Sound Of Music, The Phantom Of The Opera, and Love Never Dies, which were all stunningly BEAUTIFUL.
I admire that not only does DSM bring the gift of theater to their guests, they also bring it to students all around the DFW area! I'm very passionate about all the arts, but especially the performing arts, and I'm so grateful to Dallas Summer Musicals for making arts education available to young people in the area.
The focus of the DSM Gala for 2019 was their Education Outreach Program, which allows local students to get amazing opportunities! The program has been growing in these past couple years, and I'm so excited to see it develop further.
All my life, theater programs have made it possible for me to pursue my love of music and dancing. I actually attended a DSM camp for the first time a few years ago, for The Sound Of Music. We got to learn all sorts of fun songs and dances from the time period the musical is set in! It was such a great experience.
The most recent theater program that I was in was for a production of Frozen Jr. It was the best production I've been a part of so far, and all of the cast is family to me. The parts that I got (Queen Iduna/Oaken Mom) were amazing for me, and I'm so excited to do more in the future!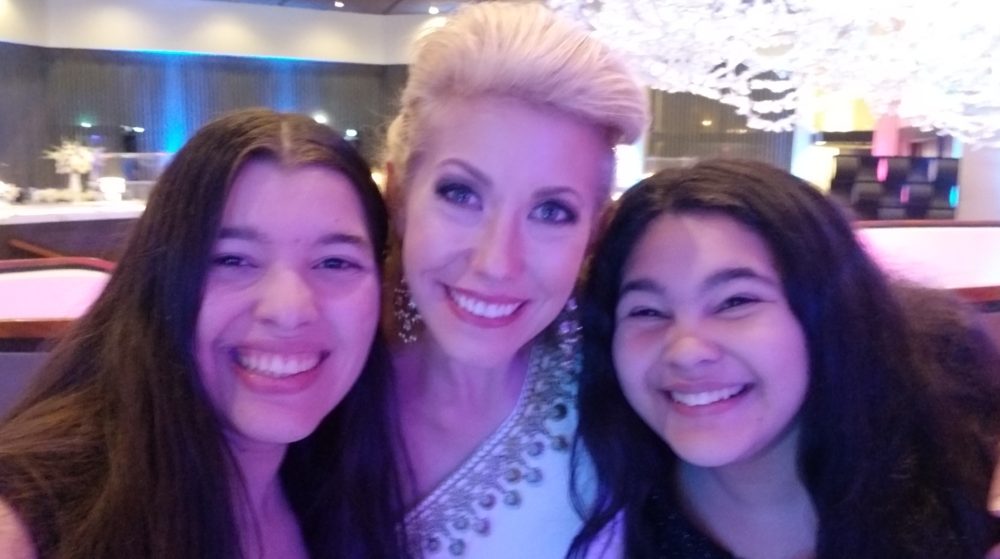 Watching and being part of musicals is one of the things I love most in the world, so it was an absolute privilege to watch Broadway legends and enjoy their performances!
My favorite part was hearing Kelli O'Hara! She is SO TALENTED! Kelli is living my dream, which is to be a singer, opera singer, an actress on TV shows and films, and an actress on Broadway and other musicals and productions. It was an amazing experience to be able to see her.
Kelli's pianist for 15 years, Dan Lipton, wrote and composed a HILARIOUS song for her called "They Don't Let You in The Opera (If You're a Country Star,)" and she performed it for us! My favorite line from the song is:
"When they say no, don't be upset, it means yes, but just not yet! Fight the hardest when folks say you're absurd. I believe that in the end, we all get heard."
She's so inspiring. Another song she sang was a heartwarming medley of "Smile" and "Here Comes The Sun" by The Beatles, which she dedicated to her ten year-old son, who has always loved The Beatles.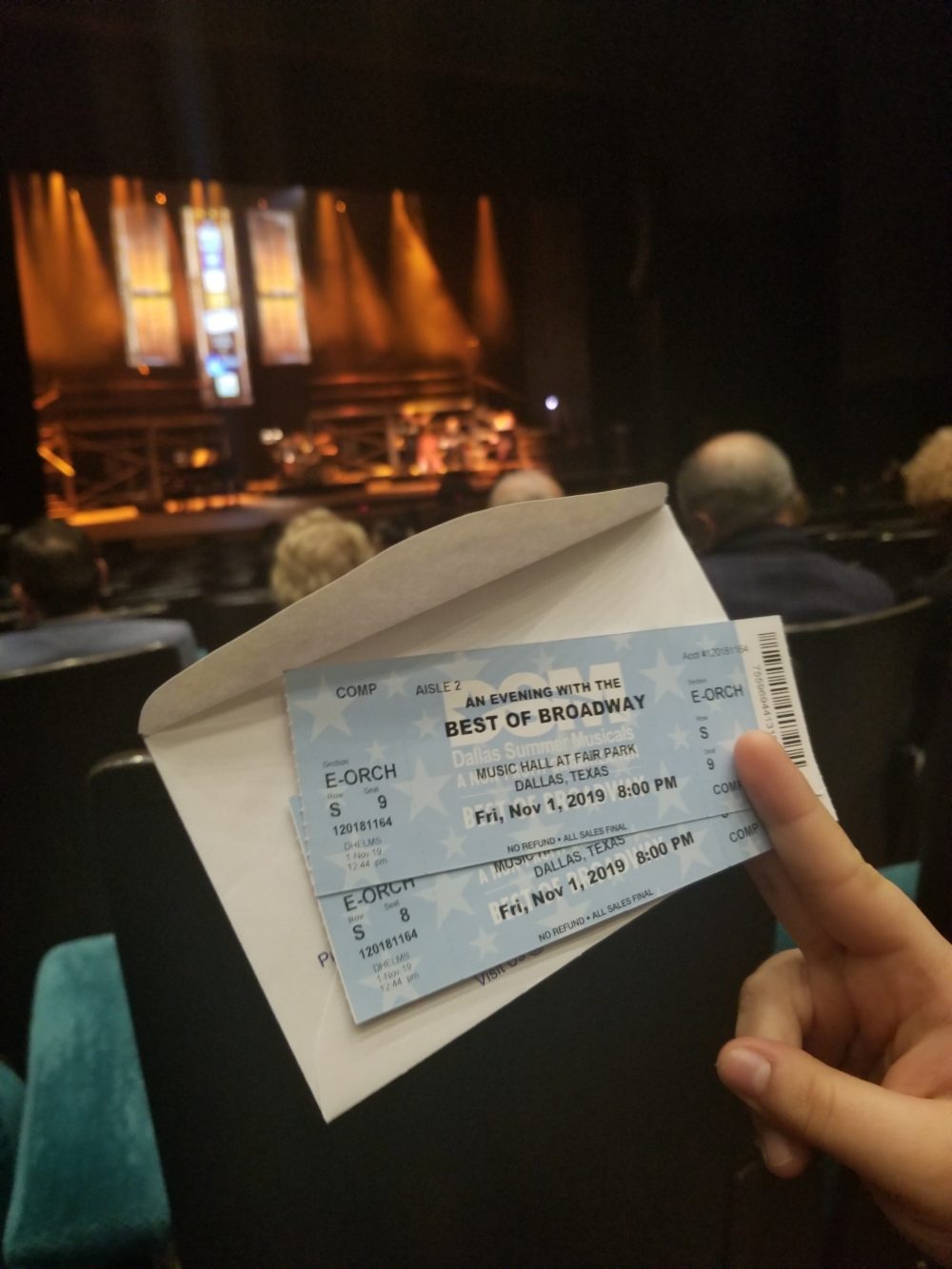 Another highlight of the evening for me was hearing and seeing Amber Riley! WOW, that woman can sing! Her performance of "I'm Changing" from Dreamgirls brought tears to my eyes. It's such a moving song, and she added her personality to it, as well.
One of the best parts of the show was witnessing the very special Broadway legends that joined us for this evening, performing with local students! It gave me so much joy to hear them sing "Seasons of Love" and "You Will Be Found."
I'm so grateful we were able to be a part of the DSM 2019 Gala, and I'm very excited for DSM's 2019/2020 season! It's going to be EPIC. I would LOVE to go all of the productions, but especially CATS (I've been dreaming of this one for a long time), Dear Evan Hansen, RENT (if I could just pick one, this would be it!,) and obviously, Frozen!
What role has musical theater played in your life? Check out Dallas Summer Musicals, and let us know in the comments below!