To schedule an interview, please contact us at founders@whollyart.com, copying our mom at elayna@thepositivemom.com
Thank YOU!
WhollyART Bio
Elisha and Elyssa are 13 and 12 year old sisters, founders of WhollyART, an organization focused on teaching kids whole, positive values through artwork. Because they are passionate about helping kids be themselves and live up to their true potential, they co-authored  I Love ME! ~ Self Esteem For Kids In 7 Easy Steps to help children who think they aren't "good enough."
Through fun illustrations, personal stories, and practical personal insight, Elisha and Elyssa teach children how to follow their hearts and be their best.
In this book, kids ages 7-12 will discover:
Their own uniqueness and many talents so they can be empowered to dream big

Why it is important to love their body and take care of it

How to make choices that help them live a life with fewer regrets

A fun, original, creative game to instantly find gratitude for everything and everyone

Things they need to do in order to avoid falling into the bullying and victim "traps"

Where and how to look for the right sources of information to keep a positive mindset

How they can set themselves up for success and set a good example for others
These charismatic kidpreneurs have been featured on Fox News, various local newspapers and magazines, as well as art galleries in the Dallas area, where they live.
They love God, are home-schooled, and enjoy a vegan lifestyle. Their hobbies include reading, writing, singing, playing the piano and the guitar,  and spending fun time with their mom.  
To find out more about Elisha and Elyssa, go to
WhollyART.com
WhollyART In The Media: Media Clips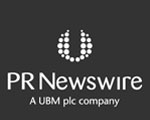 Title: Young Dallas Writers Seek to Raise the Self-Esteem of Kids Around the World
Media Clip from: PRNewsWire.com
Learn More...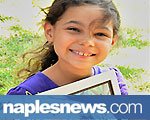 Title: A 7-Year Old Writes A Book To Inspire Others Media Clip from: NaplesNews.com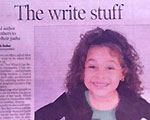 Title: The Write Stuff
Sub Title: 7-year-old author inspires others to discover their paths
Media Clip from: Elizabeth Kellar, Naples Daily News
Learn More...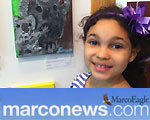 Title: Seven-year-old publishes her first book 
Media Clip from: MarcoNews.com
Learn More...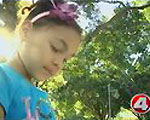 Title: A 7-Year Old Writes A Book To Inspire Others
Media Clip from: FOX 4 TV
Featured on: Tell Me Something Good, January 14, 2011 
Learn More...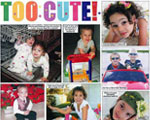 Title: Too Cute!
Media Clip from: Family News
Published: February 2009
Learn More...