Why Hamilton is The PERFECT Musical – And You Need to Watch It!
So today, we're talking about – The 10-dollar, Founding Father without a father! Ok, ok, I'll just jump into it. Alexander Hamilton! His name is Alexander Hamilton – and there's a million things he hasn't done, but just you waiiit, just you waiiit!
LOL
Honestly, I could fill this whole post with Hamilton lyrics, but since that would be plagiarism, I'm going to rave about it instead in my own words! :P
First thing you should know before reading this post, I LOVE musicals. My life is basically a musical. The music, acting, choreography, story, costumes… I'm in love with it all. I have probably seen more than a dozen musicals in person, and even more when it comes to musical movies.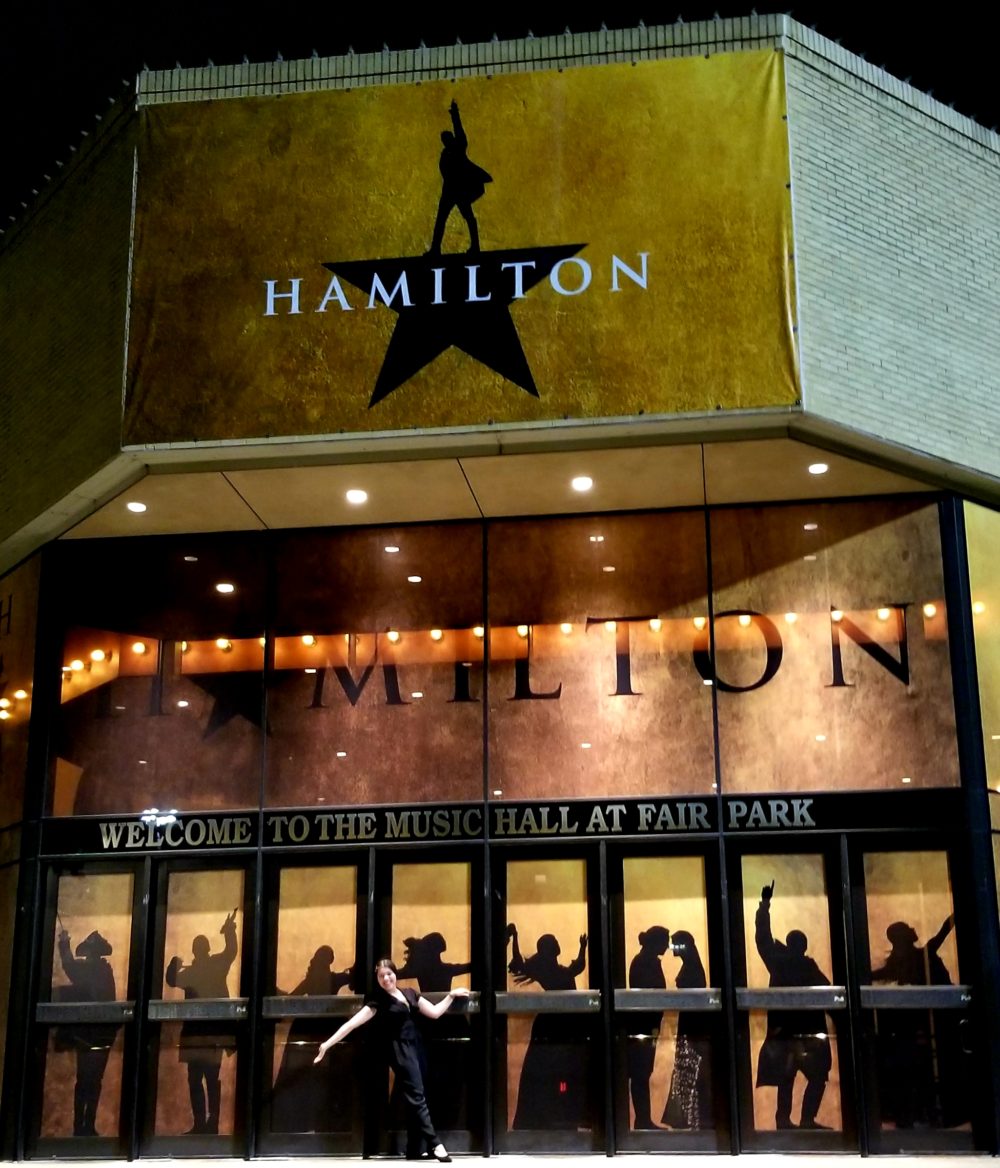 I first heard of Hamilton about 2 years ago, through a friend of a friend. It instantly took off and got amazing coverage, and I instantly knew, "I NEED to watch this." I was really patient, though. I never listened to the soundtrack (it was incredibly tempting) because I wanted to watch it with fresh, open eyes.
And then 3 months ago, IT happened! The moment I had been waiting for, for years! My mom got an invitation to see Hamilton at Dallas Summer Musicals. She knew I would be thrilled. Thrilled is a very light word to use. I was literally jumping up and down and screaming.
Hamilton was better than I expected it to be. Wayyyy better. It exceeded the expectations of my expectations. Out of ALL, that's right, ALL, the musicals I've ever seen, Hamilton is the best by far. It is a masterpiece. It's funny, upbeat, and perfect for my generation.
Not convinced? Here are 5 reasons Hamilton is the perfect musical and you need to watch it (and, coincidentally, they all start with H, lol):
1. Hip Music!!!
Oh my gosh, the music was incredible. Hip-hop, rap, ballads, jazzy show-tune type music. It's like this musical has all the possible music genres. I can't even choose a favorite. I love them all – and I've memorized most of the lyrics shamelessly. If I get the chance to purchase the soundtrack, I am not throwing away my shot. It's almost a need and not a want xD. Lin Manuel Miranda did the best job, writing all the songs, scores, and the musical itself. He's my hero. Plus, he's LATINO!
2. Hilarious Characters
There are too many good quotes and funny jokes in Hamilton. I love the rivalry between Hamilton vs. Burr and Jefferson vs. Hamilton, and King George III is amazing in his 3 short songs. Lafayette, Hercules, and Laurens are great, too! Also, Washington is a favorite. But then again, the Schuyler sisters are goals, Angelica, Eliza, (and Peggy). Basically, I love everyone haha. Such strong and dynamic characters that go through incredible development and make you feel all sorts of emotions.
3. History Made Catchy!
I love history – it fascinates me. You may not be a big fan, but that's ok, because Hamilton literally makes U.S. history addictive. It's so entertaining. At the end I was like, OK I want to get the full story, must read history textbooks now! Plus, it doesn't hurt that some of the songs have dates, locations, and what happened. "The World Turned Upside Down/The Battle of Yorktown" is a great example!
4. Helpful Lessons
Hamilton was chock full of great lessons. I have heard some people concerned about the content. Yes, there is some swearing, which was triggering for me, but when compared to the good, it is worth it. Here are a few lessons: If you stand for nothing, you'll fall for anything, don't throw away your shot, your personal freedom can never be taken away, count your blessings, dying is easy – living is harder, immigrants get the job done, and many more.
5. Heartfelt Moments
Hamilton is the best example how you can go from 'impoverished, in squalor' and 'grow up to be a hero and a scholar.' Other than Hamilton's success story and legacy, there are so many beautiful moments. Yes, I cried (do you EVEN need to ask?) I loved the miracle of forgiveness shown in 'It's Quiet Uptown' and 'Who Lives, Who Dies, Who Tells Your Story' still gives me goosebumps when I listen to it. In 'Wait For It', my favorite quote is "Love doesn't discriminate between the sinners and the saints." And, obviously one of the best is 'What is a legacy? It's planting seeds in a garden you'll never see.'
In the words of my favorite least favorite character xD, "'Life, liberty and the pursuit of happiness.' We fought for these ideals; we shouldn't settle for less."

Overall, Hamilton is an example of what I think media should be. It has racial diversity in casting, talks about how immigrants helped found this country, shows us that family and love are more important than anything, and to keep fighting for equality.
Have you seen Hamilton? What are your thoughts?
[elisha]