How to Have Magical Family Adventures at Disney
When my mom got the email, we were shrieking and screaming around the house. We started jumping up and down in excitement when we read that she was invited to the Disney Social Media Moms conference at Disney World and aboard the Disney Wonder!
We immediately started a countdown to the day we would go back to the place where dreams come true. Disney World has been a source of many of our greatest and most wonderful memories as a family, and this trip was no exception. It was truly magical, especially since it was our first full family trip to Disney World and Eliana's first cruise.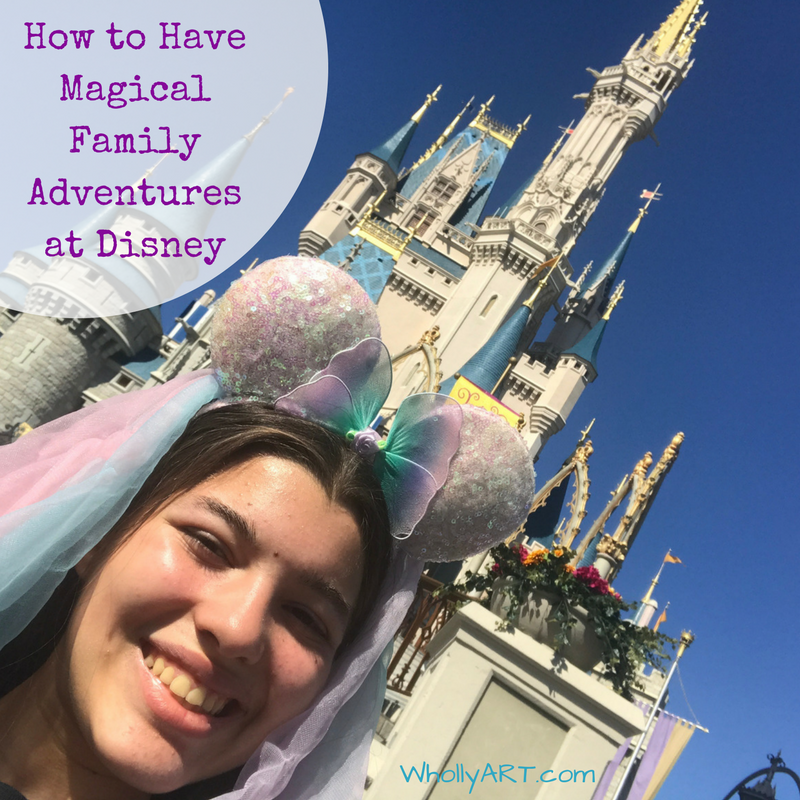 There are so many things that I want to tell you about our trip, and so little space, thus I will be breaking my focus into 3 categories – Shows and Attractions, Food (obviously), and Lessons I learned. I'm sure that by the end of this post you'll be begging your parents to take you to Disney, too.
Shows and Attractions:
The rides at Walt Disney World are unforgettable, and we had the opportunity to go on many of our favorite rides as well as some new ones. I loved going on Space Mountain (Elyssa and I totally lost our voices from screaming), Splash Mountain (we sat in the front row and got soaked), and It's A Small World, but what really took the (vegan) cake was going on the new Frozen ride in Epcot . I won't give any spoilers, but the animatronics used, the music, colors, and 4D effects made this my favorite Disney ride. You need to go!
I loved going to the Star Wars Launch Bay. I met Chewbacca and even posed with Kylo-Ren and some Stormtroopers. I am a Star Wars fan, so I totally went dressed in my best Star Wars apparel – my Death Star necklace, Stormtrooper skirt, and BB-8 Mickey ears. We saw a magnificent light (and fire!) show with scenes from Star Wars movies throughout the years, and the fireworks were breathtaking.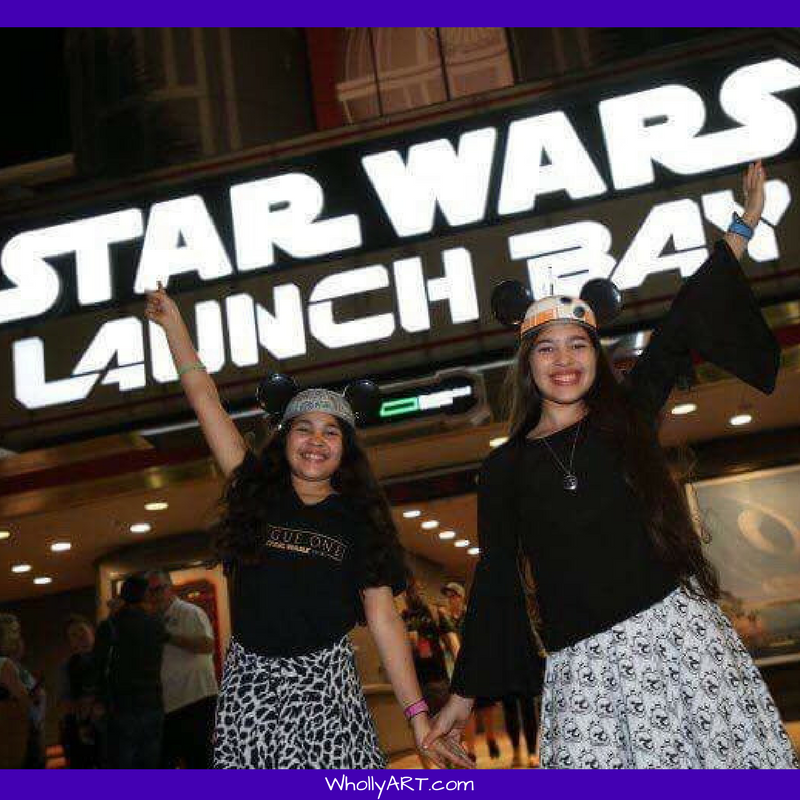 Then, the Broadway-style shows on the Disney Wonder were incredible! We watched one each night – The Golden Mickeys, Disney Dreams, and Frozen: The Musical.
The Golden Mickeys is an Oscar-style award show honoring some of our favorite Disney movies celebrating love, friendship, and villains (yep). I love the lesson that you don't know you can't until you try and you can do anything you put your mind and heart into.
Disney Dreams is a story about finding your own magic. We each have magic within us, and when we find that magic we can unleash our full potential and share light with others. I also love the lesson that everyone grows up, but the important part is to never forget the importance and magic of childhood, and that magic is really everywhere.
My hands-down favorite, though, was Frozen. The puppets, songs, dancing, and creative telling of the story was amazing. I just can't find enough words to describe it without giving it all away. It was so real and felt like we were in the story. The lesson was that true love can be found in every relationship and that as it's sung, "love is an open door".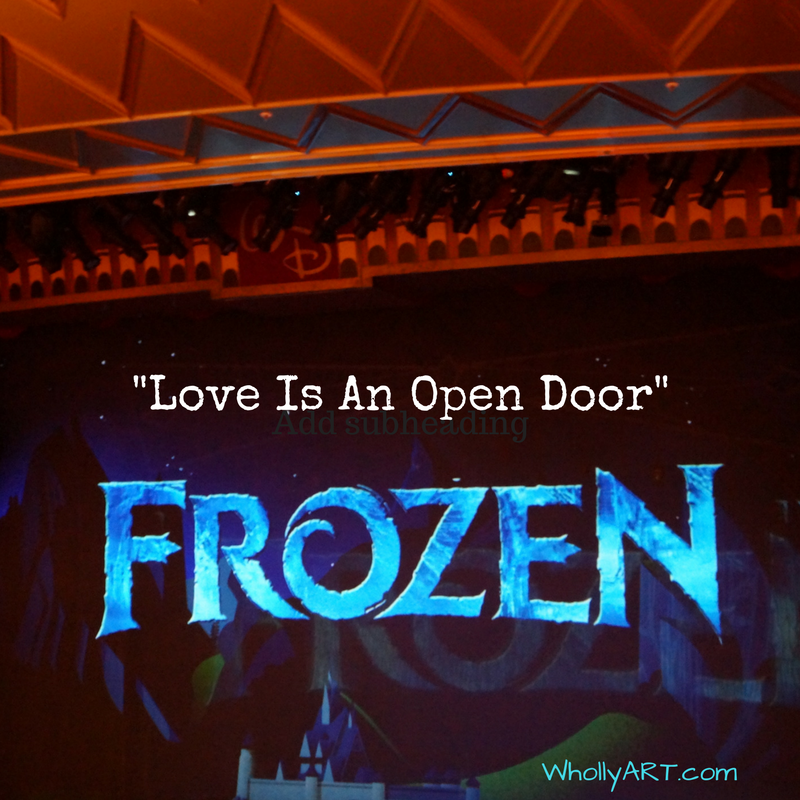 I also loved the youth clubs on-board the Disney Wonder. Eliana loved the activities, Disney movies, and crafts at the Disney Oceaneers Club (3-12 years old). She didn't want to leave! Elyssa and I hung out at Vibe, the teen club (14-17). Elyssa is 13 but she decided to stay with me. Sisterly love is the best.  :-) We loved the challenges and "ice-breaker" games, where we got to know the other teens. My favorite activity, though, was karaoke. We stayed up until 2 A.M. jamming out to songs we love.
As part of #DisneySMMC we participated in a Good Morning America at Sea segment. We got the pleasure of sharing the spotlight with Princess Tiana, Mickey, Minnie, Donald, and Daisy. We also met the lovely Ginger Zee (whom you may know from Dancing With the Stars). She is so inspiring, beautiful, and a strong embodiment of self-confidence.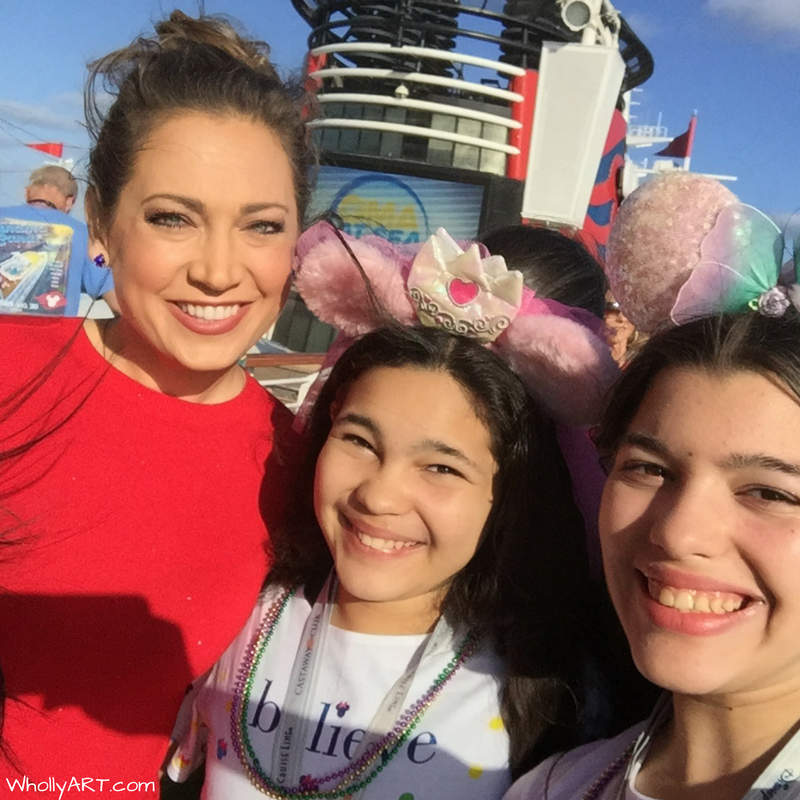 Then, there was Castaway Cay. I had never been to the Bahamas before but it was absolutely incredible. The sea was so blue and clear, and salty, but I loved soaking up the sun and playing in the water. We even snorkeled – and got to see a stingray underwater. It was like exploring a brand new world.
We ran the Disney Marathon 5K on Castaway Cay and dressed as Pocahontas (me), Ellie from UP (Elyssa), and Mulan (our mom). It was beautiful and a great workout for all of us, and even though we were still aching days later, it was so much fun!
Food:
As most of you may know, our family is vegan (no dairy or animal products), so your first thought, especially if your family has special allergens/diet needs is, "It's going to be IMPOSSIBLE to find healthy meal options or snacks that my family will enjoy."
We were pleasantly surprised to find that Disney is really flexible when it comes to meal and snack options! We enjoyed many delicious plates in the parks and on the cruise. I loved Pizze Rizzo the best, though. Pizze Rizzo makes their own pizza dough and they are made with fresh ingredients. We had vegan cheese on our pizzas, and combined with the veggies (and fresh cilantro) I was absolutely in love.
We also had some delectable snacks – like German pretzels that are literally the size of your head, and egg-less churros (OMGoodness, the churros were so good).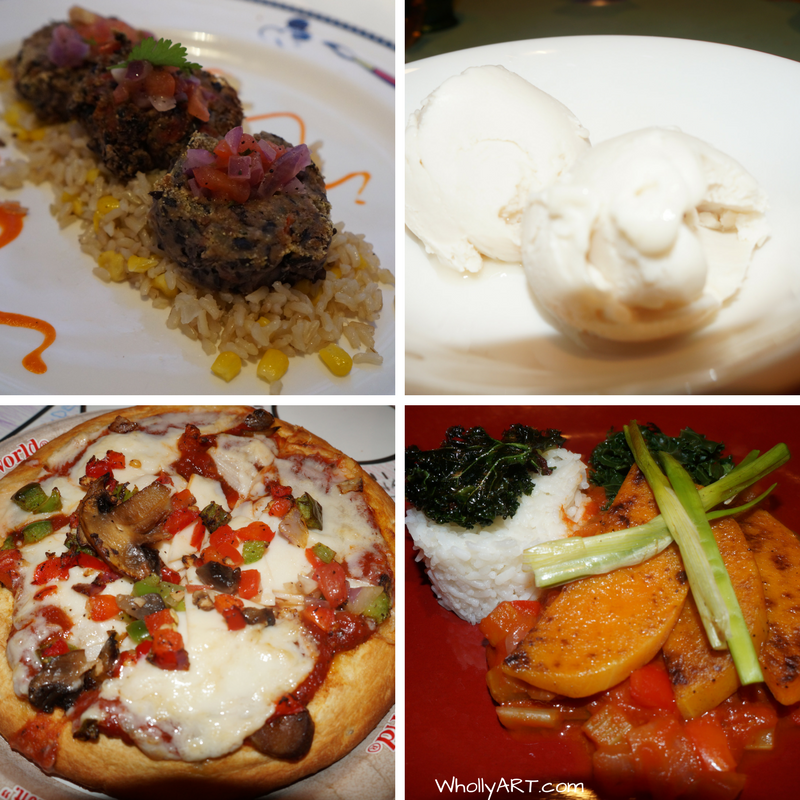 On the cruise, there were numerous options at the buffet in Cabanas, Triton's, Animator's Palate, and (my favorite) Tiana's Place. Tiana's Place had a delicious creamy tomato soup, and tasty butternut squash with veggies and rice. And, we always finished off with fresh fruit and vegan ice cream! It was a dream come true. 
Lessons:
My mom always teaches me to find lessons everywhere I go, so I've compiled a small list of pointers for any family vacation:
Tune Out of Distractions: The point of family vacations is to spend time with each other, not to escape being with your parents and siblings. Which means, yes, being technology free is a must! Of course, I recommend you having a form of contact with your parent/guardian in case of emergency, but tune out of texting, music, and web surfing. This is also a great tip for improving your family relationships at home, but I think that sometimes we can get so distracted with modern amenities, like technology, that we miss the point. So put down the phone and have fun with your family!
Work As a Team: This is also an important point of family time. Work together and plan a system for what you will do. Especially if you're going to Disney World, you want to work together and have the same purpose. Work together to carry out plans – help your family out, and make sure you stick together.
Find Something Everyone Enjoys: I'm a thrill seeker. I love roller coasters and any ride that's frightening and dangerous. But, if you relate to my mom, you avoid that at all costs and avert your eyes to anything fast. Families have many different tastes and interests, so make sure to compromise and find things that all of you like. While you go on a fast ride, those who would like to opt out can get some princess autographs or participate in a Disney parade. That's what I love about Disney – there's something for everyone to do – and everyone can act like a kid.
Embrace the Moment: Sometimes a mistake people make with family Disney vacations is to meticulously plan every single detail of every second. It's great to have plans, but don't overwhelm yourself or your family with a bunch of plans. Disney has lots of character meet-and-greets, parades, and special events not included in main calendars. So make some space for Disney magic. Also, life happens – someone strays off, you get hungry earlier than you expected, and a multitude of bathroom breaks (especially if you have a 3 year old sister LOL). Embrace every moment and enjoy it.
Don't Sweat the Small things: More often than not, things don't go as planned. Make that most of the time. But, remember to keep your cool and remember all the magic you can find around you. Take in the sights and sounds (and delicious smells!) and don't pay attention to small issues and difficulties. Don't let something tiny ruin your Disney magic!
So, as you can see, a trip to Walt Disney World with your family is one of the best investments you can make. Our family loves Disney, and we are already looking forward to our next Disney experience. Remember to look for magic around you and may the force be with you!
[elisha]