How to Survive Traveling By Yourself As A Teen in 2019
Guess what? I'm going on my first ever trip by myself in a couple weeks!!!
I'm headed off to Utah to a summer camp! I received a scholarship to a program called the Young Ambassadors' Singers and Entertainers (YASE) workshop. It's from July 8th to 13th, and I'm also staying two extra days, making this the longest time I'll be away from home.
The YASE workshop is an intensive camp where I'll be singing, dancing, and learn performing skills. I also get to participate in two shows and showcase my talents. I love performing, especially in a big group, and I'll get to meet lots of other teens who share my interests. It's also my first time going to Utah, so if you have any recommendations for where I should go, let me know!
It's taking place at Brigham Young University, which happens to be my dream college! I'm going to stay in the dorms there, with a roommate, and it's going to be amazing. I'll be taking TONS of photos for social media and writing a recap post about what I did when I get back, so be on the lookout!
I'm really grateful to my mom for supporting me in this opportunity. It's been a difficult year for her, all of us, really, but she continues to cheer me on in my dreams. I can't say she's excited about me being gone for so long lol. But, my mom is excited about the chances I'll have to make new friends, learn new skills, and have fun new experiences.
Now that you have a bit of background, it's confession time: I'm really attached to home. It makes me nervous to think about ever leaving. I overthink and then send myself into a spiral of anxiety. It's gotten worse over the past 6 months. I've had mental breakdowns and panic attacks about it, but I've been working through it.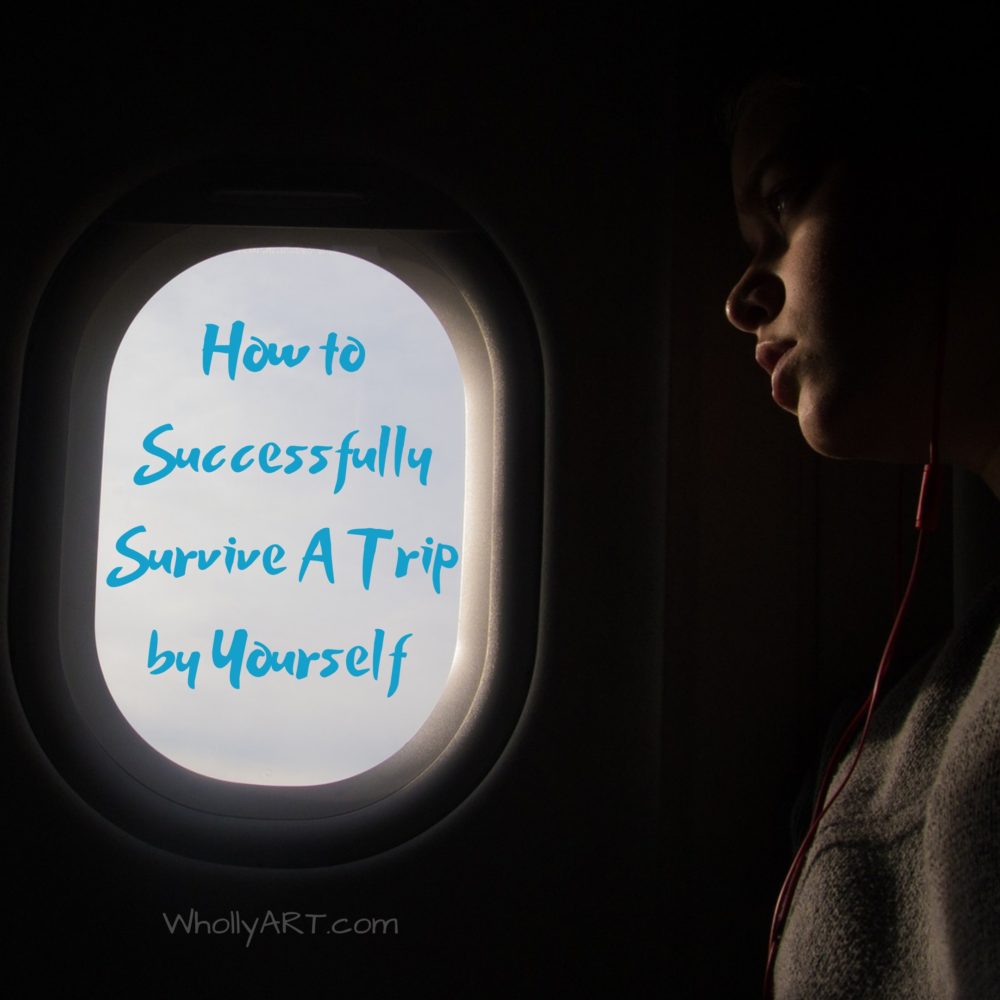 So, going on A PLANE. BY MYSELF. AND dealing with security check all on my own, is rather frightening for me. I've been thinking about ways to deal with it, and I came up with a fool-proof strategy on how to successfully survive a trip by yourself.
Bring Something to Do – It can get boring and lonely to pass time by yourself, especially on a plane, where you're surrounded by strangers. That's why I'm coming prepared with things to do! I've recently taken up digital drawing (which doesn't require WiFi haha!), so I can be creative and calm myself. Ebooks are also a must for me, I love reading and it puts me into a great state of mind.
Deep, Calming Breaths – One of the strangest feelings is when the airplane starts to move and then the take-off. It feels finally real that you're leaving your home behind. Breathing exercises always help me. Usually it's a lot easier when you have someone with you, but on your own, it's key to be in a relaxed state. If you have relaxing music, that is great, too!
Be Prepared – There is nothing more satisfying to me than knowing I am completely prepared. Bring a personal item, like a backpack or purse and make sure it has the necessities. Basic hygiene products for the plane, your electronic device of choice, airplane-friendly snacks, and pro-tip, packing a small blanket will be one of the best decisions you ever made! Trust me.
Stay Safe – Horrifying as it is to think, there are many dangers, especially if you're a minor traveling on your own. Don't give out personal information to anyone, stay in areas with a lot of people, and limit your distractions. Watch your things, too, you don't want your valuables to go missing!
Communicate – This one is my favorite! Update your family and friends all the time with pictures, videos, and messages. You can even FaceTime or call them. I know I'll be doing this a lot. I constantly talk to my mom about everything and like I said earlier, I will be updating my Instagram and Facebook for the world to see.
All in all, you don't have to worry! I don't have to worry. Because I've totally got this. You've totally got this. And, it's going to be fun. Extremely fun!
Do you have any summer travel plans? What would you add to the list?
[elisha]