A Fresh, Interactive, and Fun Take on Science
A couple months ago, we had the amazing opportunity to tour Houston with our grandpa, who was visiting from the Dominican Republic! We had absolutely wondrous experiences, and there was so much we did and saw that it couldn't fit in one post. We went to the Houston Comicpalooza, the NASA Johnson Space Center, and the Kemah Boardwalk, among other incredible destinations.
I want to focus on my favorite part of the trip, which was visiting the Houston Museum of Natural Science. The outside of the building by itself is gorgeous, and the greenery in Houston is beautiful! Right across from the museum there is a mini plaza/roundabout with a statue of Sam Houston. There are flower gardens, too, and they were in full bloom for us.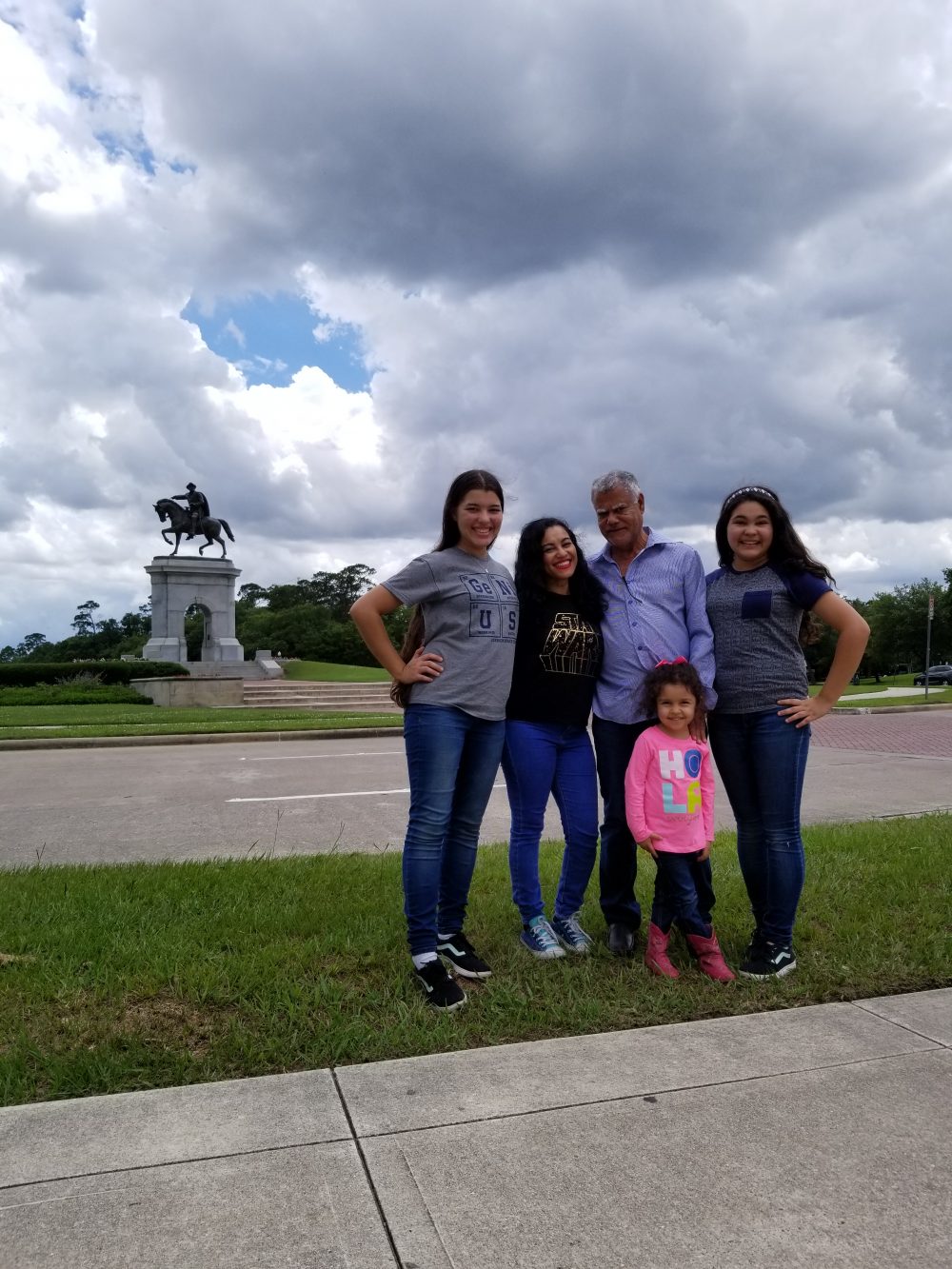 When we stepped inside, we got our tickets and were ready to have the time of our lives!
We saw a fascinating documentary about the Aurora Borealis, what causes the "Northern Lights," as they are called, and the development of understanding this phenomena over history. It's a personal goal of mine to see Aurora Borealis in person, I've always wanted to, and I hope to one day!
I learned that it's really caused by the Sun. Sunspot regions will throw particles of plasma (or solar wind) into space. It then takes some time to reach Earth, and it will hit the atmosphere, particularly the weaker areas.
The different colors of the Aurora are caused when the particles collide with different substances. Oxygen can cause yellows and greens, and nitrogen can bring out red, violet, and even blue colors. Of course, it also depends on the type of collision (atomic/molecular) and altitude.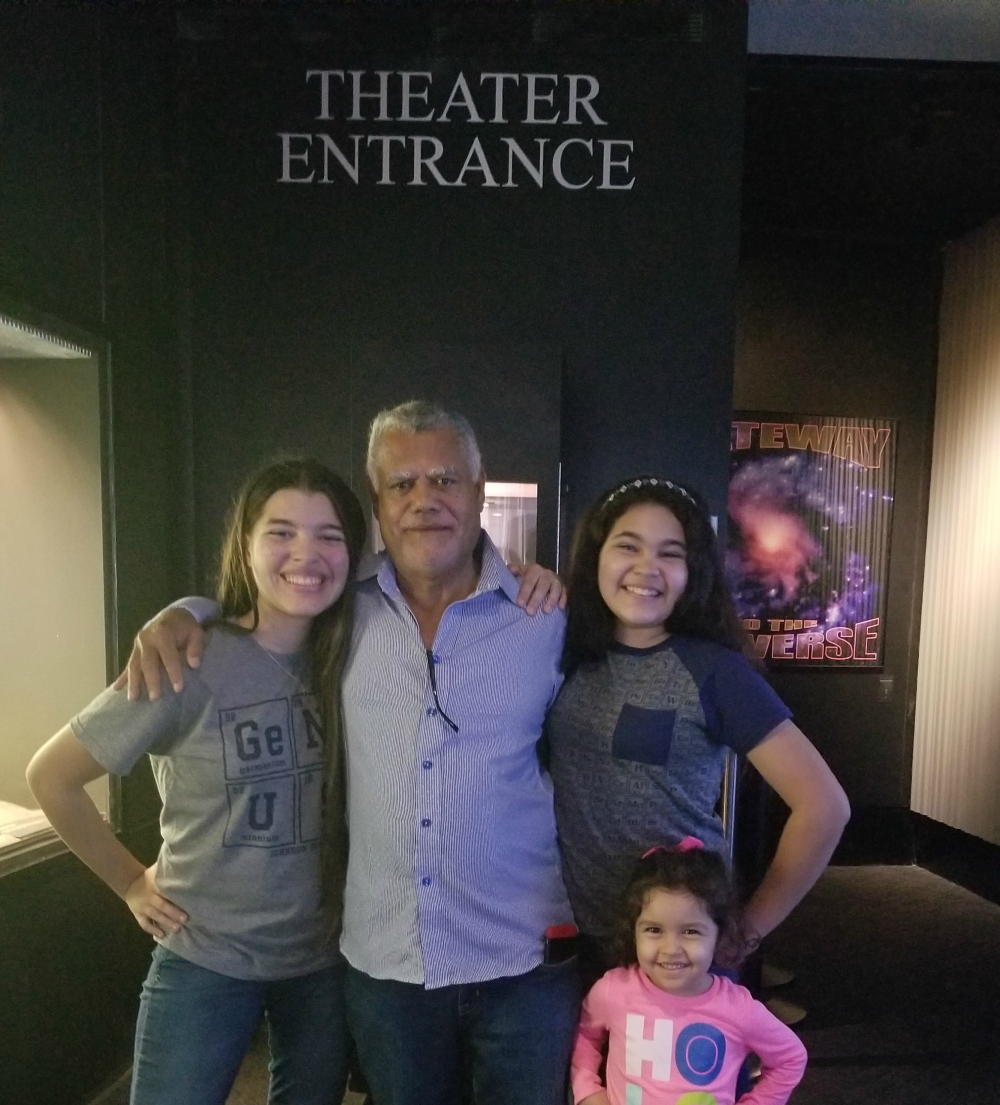 After that, we went to the Cockrell Butterfly Center and Rainforest Conservatory. I am mesmerized by butterflies – their colors, behaviors, and roles in this circle of life. So, you can imagine my delight when we walked into this huge dome filled with all sorts of butterflies, flying everywhere! Just incredible.
I also got to hold a Giant prickly stick insect. She was really sweet. One of the curators in the Butterfly Center taught me that they have two different defense mechanisms – camouflage, and they can imitate a scorpion by curling up their tail. They do this when they feel frightened or threatened, but Suzie (as they call her) was rather comfortable with me. I'm guessing I owe that to my time volunteering in the Zoo and handling all sorts of insects, small reptiles, and mammals.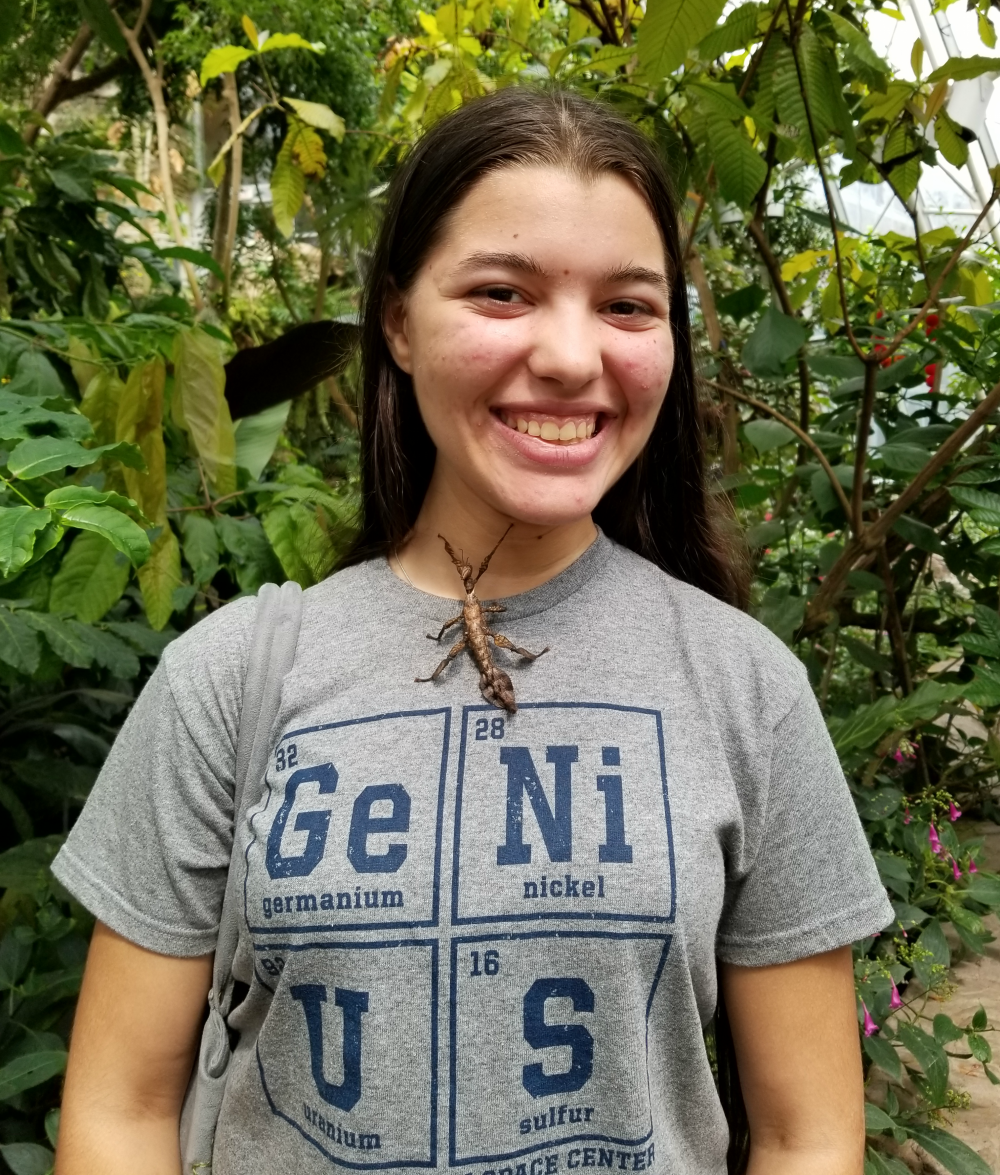 We then made our way to the permanent exhibits, and out of those, my favorite was The Morian Hall of Paleontology. Usually, I'd expect the skeletons to be stacked neatly in standing poses, row upon row. It's what we're normally used to seeing in museums. But, the Houston Museum of Natural Science does things differently. All the skeletons, from a T-Rex to a Pterodactyl are in action – it's almost like they are alive! (Thankfully they aren't actually alive though, because that wouldn't exactly be fun…)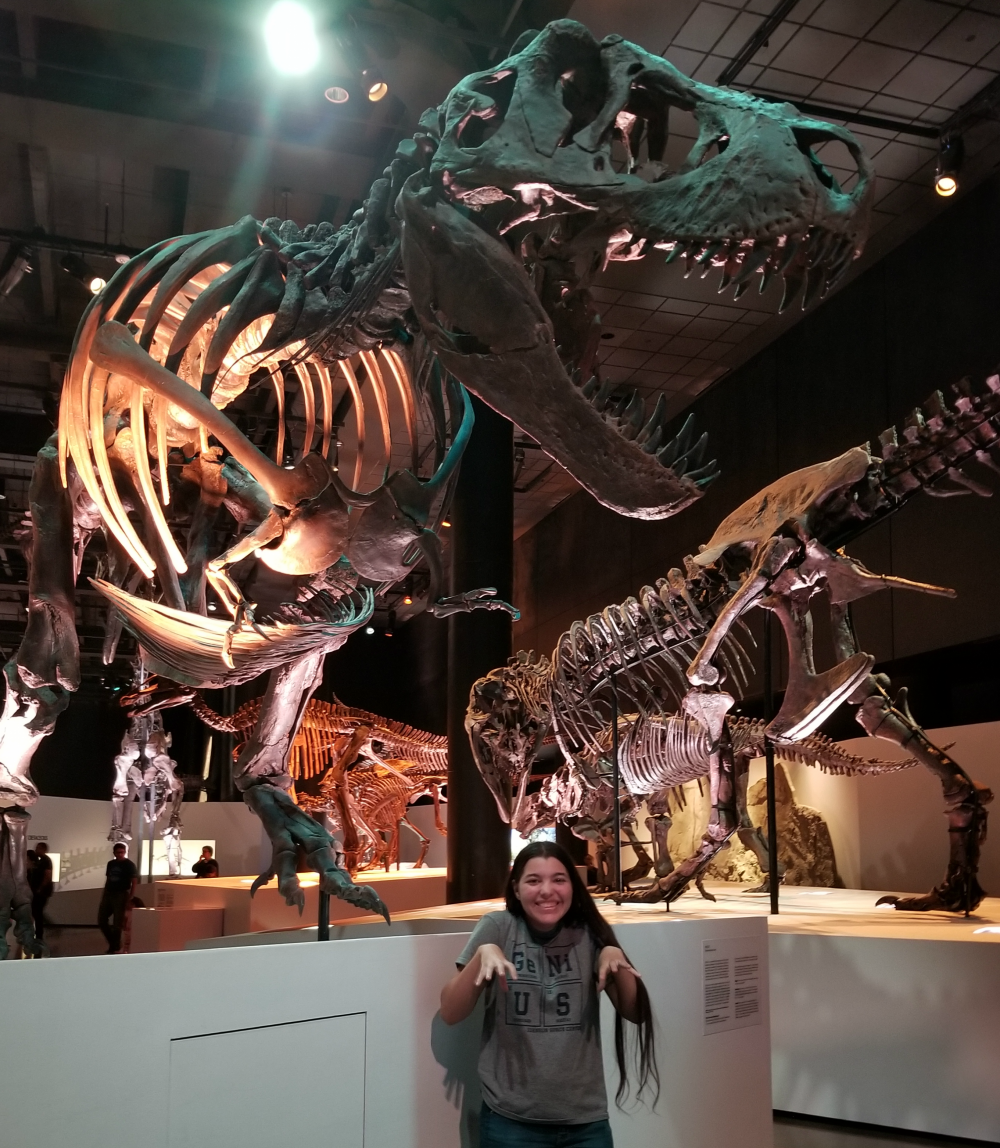 Another honorable mention goes to the Foucault Pendulum, which was first exhibited in 1851 at the World's Fair in Paris by French physicist Jean Bernard Leon Foucault. It is a visual pendulum of the Earth's rotation.
Throughout the day, the direction of the pendulum's swing appears to change. Actually the Earth is turning under the pendulum as it swings. The pendulum receives the energy needed to keep swinging from a magnet surrounding the cable at its top. As the pendulum reaches the middle of its swing, it closes a circuit that activates the electromagnet. The magnet pulls the cable away from the center position. The pendulum keeps on swinging as the world turns below, knocking down little wooden pins in a circle as it rotates. So COOL!
If you know me well, you know that I am a complete nerd when it comes to science (particularly chemistry). I have a periodic table shirt that I wear…. Periodically (bet you saw that one coming, right?)
It's no surprise the cherry on top for me was the Welch Hall of Chemistry. I was obsessed and trying to keep my excited screaming to myself. My mom and sister were laughing at my excitement, but I could tell they liked it too.
There was a life-size periodic table of the elements, with cubby-holes for each element, and most of them had a physical example of that element.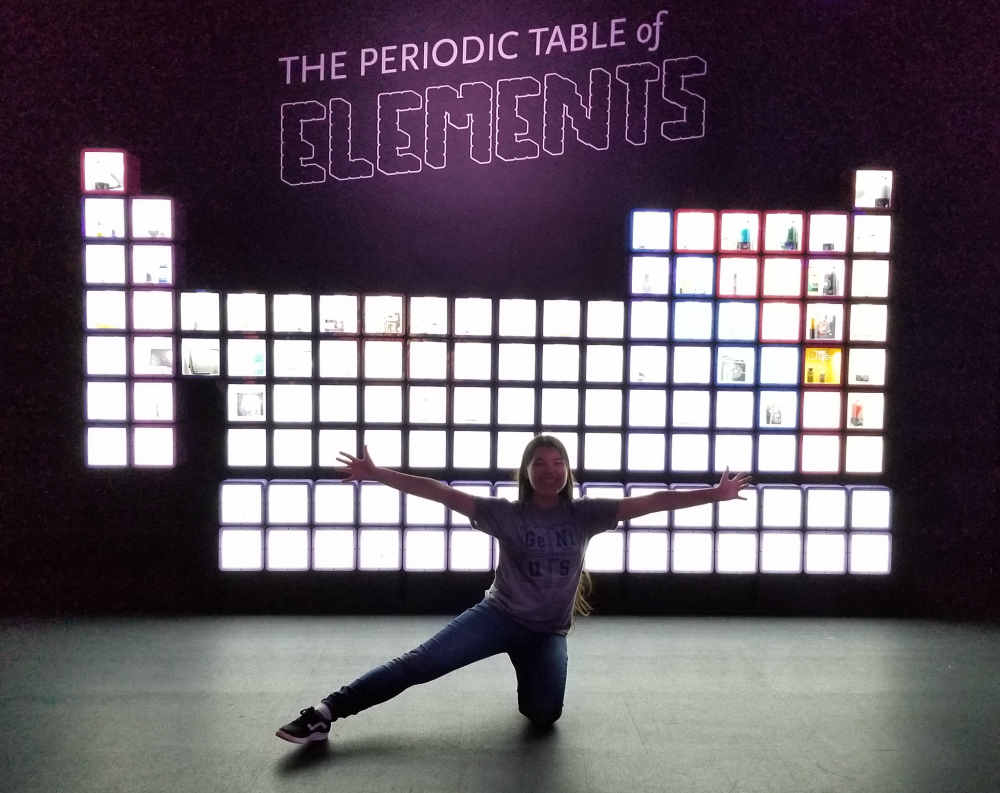 There was a lot of technology in the exhibit, as well, like an activity allowing you to electronically "change" the arrangements of atoms in molecule, and another one that allows you to explore what elements are in your body.
There's also a Chemistry Crime Lab that allows you to explore the science behind solving cases. It was all so much to take in, I definitely want to go back so I can escape back to the Hall of Chemistry (hey, come join me LOL)!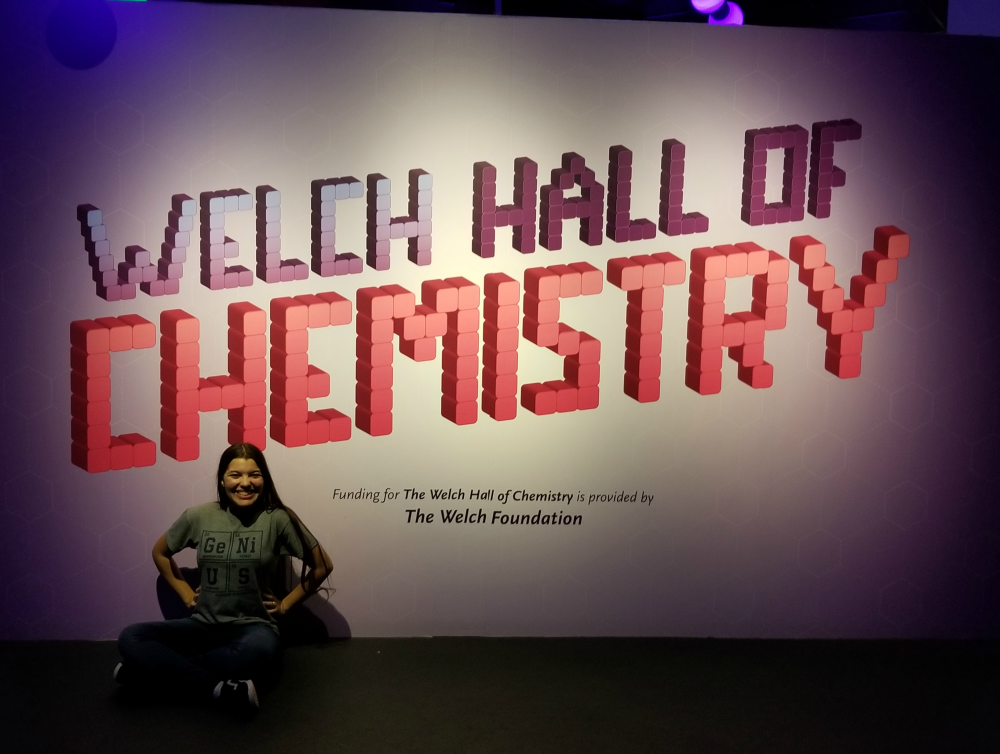 Overall, the HMNS is chock-full of learning experiences, but it also gives you the chance to be creative, have fun, and interact with your surroundings. I loved it and I really think it's a great field-trip or family trip! (Summer's here… so why not go?)
Science is important, as is History. It's something that binds us together, learning about our past and how the world works around us. I think it's a lovely thing to be a part of. So, whether you go visit the Houston Museum of Natural Science or not (though I highly recommend you do), appreciate the beauty around you.
You can visit the Houston Museum of Natural Science website for more info, follow them on Instagram, Facebook, and Twitter to receive more updates!
[elisha]