Calling All Teens – Show Love this Valentine's Day
Happy Valentine's Day! So, are you ready for the best Valentine's Day ever?  Or, are you not counting on it, and putting it on your DO NOTs list of the year?
Do you feel lonely on Valentine's Day, thinking it's only applicable for people who are in a relationship? Or do you feel left out with all the pictures of flowers, cards, couples, and chocolate?  Trust me, you're not alone!
According to data compiled by the social-media platform "We Heart It," teenagers are the most miserable group on Valentine's Day! Over 98% of teenage girls don't have a lot of love for the holiday. 13% of teenagers under 15 think Valentine's Day is "painful," 22% say it's "overrated," and 24% think it's irrelevant. We (teenagers) are the least likely age group to send Valentines, with more than 53% saying they're not sending any at all.
What about social media on Valentine's Day?
21% of teens under 15 say social media is "extremely important" on Valentine's Day, and over 64% said it was "somewhat" important. Only 10% of people over 25 years old say they think it's "very important" to Instagram or Tweet their chocolates and flowers.
And, apparently Valentines make teenagers feel worse, especially on social media. Only 36% of teens say that social media makes Valentine's Day more fun, while 65% say social media either made them feel jealous or stressed out.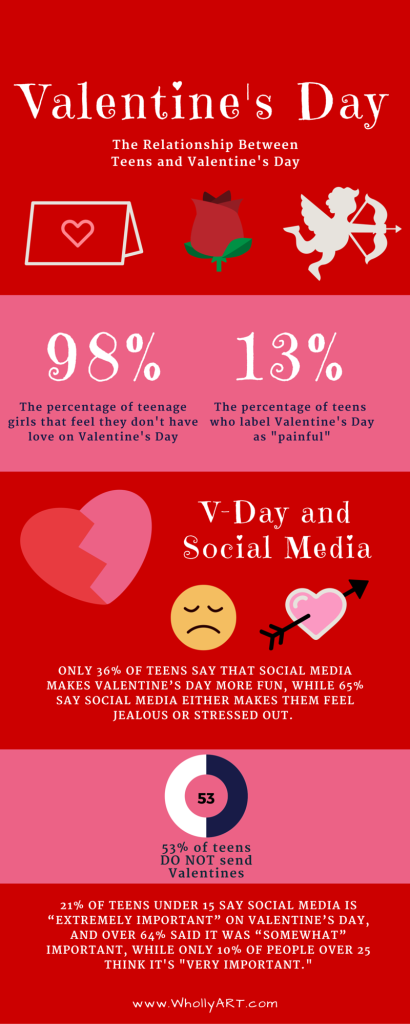 The reason Valentine's Day brings feelings of loneliness and sadness for teens is because we're focusing on the wrong type of Valentine's Day. Breaking news – it's not really about giving or receiving roses, having a date at a fancy restaurant, or chocolate (though I really enjoy my dark chocolate). All these things are nice, but not essential or necessary.
So, what REALLY makes it so important? Love, respect, and friendship, are the 3 main components to Valentine's Day. You don't have to be in a relationship to enjoy it – I don't have a boyfriend, and I'm perfectly fine with that. I make Valentine's Day about the people that are most important in my life.
I make Valentine's Day a time to express love to my sisters, my parents, my teachers/leaders, and the people I'm closest to (my best friends). And you don't have to spend a fortune to make someone feel special or tell someone else you love them. Here are some easy, almost cost-free ideas to show love this Valentine's Day:
Say, "I Love YOU!" for no reason.
Give a hug or a kiss to your parents.
Make breakfast for your family.
Make a coupon book for mom and dad.  (Ideas: free babysitting, taking out the trash, washing the car, making dinner, things that your parents do for you)
Make your own homemade Valentine's day hearts or personalized cards.
Dedicate the day to say only words of kindness and encouragement.
Write a letter to telling them why they are special to you.
See? You don't have to spend money, only LOVE, and, like my mom says,
[Tweet "LOVE spells T-I-M-E #spreadthelove #ValentinesDay #speaklove #love #respect #friendship #celebrate"]
Also, show love to yourself this Valentine's Day! Who said you only have to show love to others? Here are a few exercises you can start doing:
Write down 10 things you love about yourself.
Go outside, hug yourself, and yell at the top of your lungs "I Love MEEEEEEE!" (Ok, this one is optional. Do it if you're feeling adventurous enough.)
If someone tells you a compliment, look at them straight in the eyes, and say, "Thank You."
Make yourself a valentine's day card, and keep it! You can make it your own ritual to read it every year on February 14th. 
Practice saying "no." Don't accept everything and load yourself with "to dos." Keep life simple for yourself, and you will make life simpler for everyone around you, too.
Ask 3 people (A parent/sibling, a friend, and someone you respect/admire) what they love most about you.
Declare yourself a "No-Judgement" zone. Don't judge yourself or speak negatively to yourself, and don't do the same to others.
[Tweet "7 exercises you can do to #loveyourself this #ValentinesDay http://bit.ly/BEmine #spreadthelove"]
Here is a short poem I wrote about Valentine's Day:
"Roses are red, violets are blue,
how do you show your love is true?
Cupid roams, arrows fly,
People send gifts saying, "Will you be mine?"
Chocolate is good, but kindness is better
Roses are pretty, but you can write letters;
To let others know
what they mean to you;
Just be yourself
Let your light shine through."
With that, I hope you make this Valentine's Day the best one yet and remember these practices to love others and yourselves, not just today, but always. What are you doing this Valentine's Day to celebrate love, respect, and friendship?
[elisha]