Five Feet Apart Film Review – NO Spoilers!
About a week ago, my mom got invited to a movie screening for Five Feet Apart, directed by Justin Baldoni, whom you may recognize as one of the lead characters on award-winning TV show Jane the Virgin. She's a big fan of Justin, because he is a great example to men and fathers everywhere of vulnerability, love, and kindness. She was ecstatic when she found out we could go see his movie!
Since Valentine's Day was coming up, she thought what better way to celebrate than send Elyssa and I to the movie together, to have a little girl's night out. We were really excited, since usually the whole family goes to the movie theater together, but tonight we'd go as each others' plus-ones.
When I learned we were watching Five Feet Apart, I was very happy, since I had seen the trailer before and it looked like a great feel-good film. I really had no idea what I was in for!
We arrived at the movie theater, where we got our popcorn, drinks, and really good seats in the middle row (that's the BEST spot to get in the movies, it gives you the perfect view of the screen).
I have never seen so many women/girls packed into one movie theater at the same time LOL There were literally like 5 men (kudos to them for venturing into a room filled with raging hormones) and then the majority of the girls were around our age, teens, college students, but there were also moms.
We waited for a while, and the movie hadn't started for about 30-45 minutes and then we were thrilled to find out that we were getting a special visit. Justin Baldoni, along with the film's stars Haley Lu Richardson and Cole Sprouse came in, and we greeted them with applause and cheers (and several girls shouted "I love you, Cole" above the crowd, but who can blame them haha).
I remember watching Cole Sprouse and his twin brother Dylan star in The Suite Life of Zach and Cody, back in their Disney days! It seems like forever ago, but it was a show my mom, my sister, and I loved and laughed a lot with! It's very interesting to see how he's grown as an actor, and I was impressed with his performance in Five Feet Apart as Will, the daredevil, rebellious character that may seem careless but is actually conflicted with himself.
I was also touched by Haley Lu Richardson's interpretation of 17-year-old Stella, a girl who lives her life full of routines, boundaries, and self-control (to almost a fault), yet she is hopeful, bubbly, and has such a joyful personality. It was obvious to me that Haley, Cole, and Justin are all good friends, and they had fun on-set, even with this sensitive subject matter.
It was so inspiring to hear from them about the emotion and care it took to create this movie. Five Feet Apart is a modern love story about 2 teens, Stella (Haley Lu Richardson) and Will (Cole Sprouse), who have CF (Cystic Fibrosis). Justin [Baldoni] asked how many of us knew what CF is, and there were maybe 15 people (including me) who raised our hands.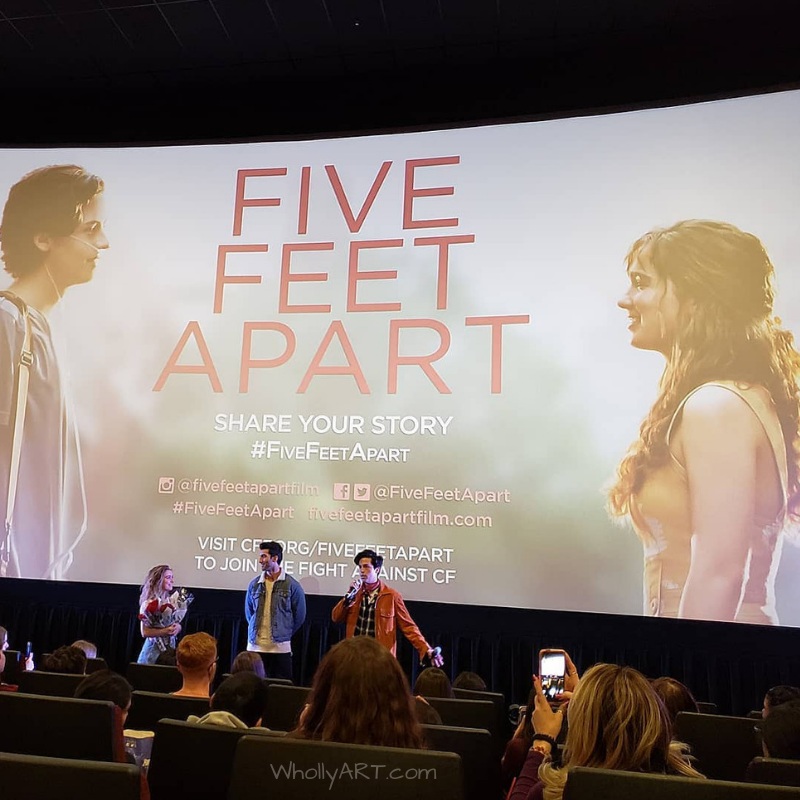 Cystic fibrosis (CF) is a genetic disorder that affects mostly the lungs, but also the pancreas, liver, kidneys, and intestine. It's incurable, and it causes many complications with breathing, and coughing up mucus is a regular event for people who suffer from CF.
One of the main points of the movie is that patients with CF have to be kept a minimum of 6 feet apart from each other, to lower the risk of cross infection, so that germs don't spread.
Haley [Lu Richardson] brought in 3 enormous bouquets of roses and started handing roses out to the audience, and she explained that roses have a double meaning around Valentine's Day, because kids who are diagnosed with CF sometimes call it "65 roses" instead of cystic fibrosis. It was very touching.
It's my hope that you'll watch it, too. I have so much more understanding of CF that I didn't have before. While it's impossible for a movie to accurately portray what every CF patient goes through, I believe Five Feet Apart has gotten closer than other representations of cystic fibrosis in the media. I'd call that amazing progress!
Justin Baldoni explained how they wanted to make this movie as real as possible. They had a CF nurse on-set every day to make sure they depicted cystic fibrosis in a way that was poignant yet true to patients' experiences.
They also had a consultant on the film, a patient of CF named Claire Wineland. Sadly, she passed away last September, before she could see the film, but she helped them put together the script and coached on acting, as well.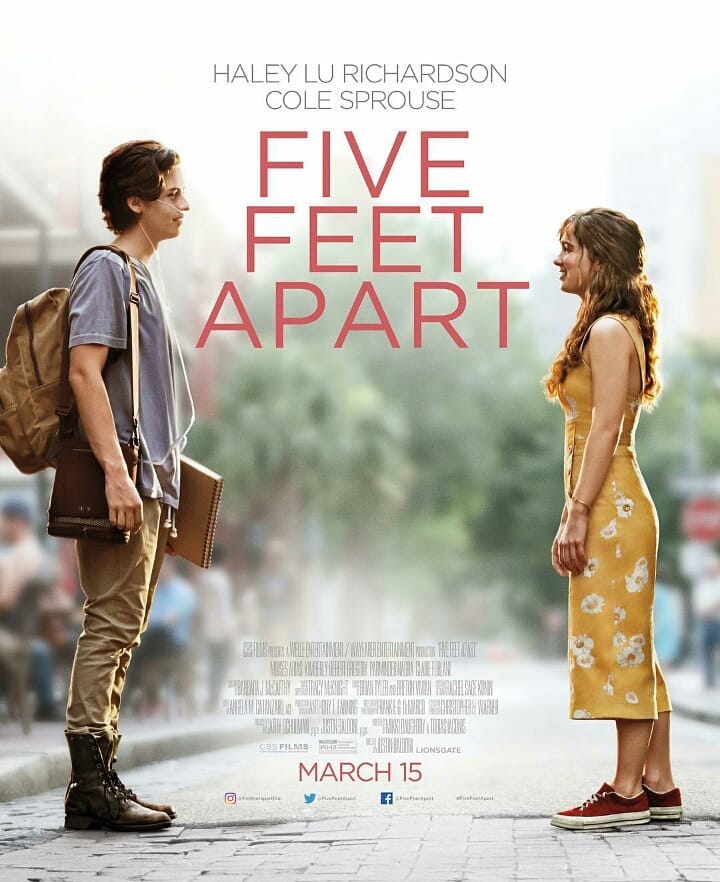 To be among the first audience to see Five Feet Apart was such an honor. I loved it. I cried so much, and I am glad that cystic fibrosis is now being portrayed in the media, and it will bring so much awareness to this disease.
There are 3 main lessons I get out of this film:
Be Grateful for Touch – It seems simple, doesn't it? A hug, holding a hand, cuddling, but some don't get that opportunity, as you learn with Stella and Will. My mom encouraged me to do a test called The 5 Love Languages, and my two highest are Quality Time and Physical Touch. It would be heartbreaking for me to not be able to spend time with my loved ones. Five Feet Apart has given me an even deeper appreciation for that touch I get to experience every day.
Live Life to the Fullest – I think my favorite quote in the movie goes to Stella, our female protagonist, "This whole time I've been living for my treatments instead of doing my treatments so I can live. I want to live!" Sometimes, we can get caught in the routine of life. Checking off a to-do list. Isn't it so much better to do what you love instead of putting it off for when you "have the time"? You don't know how many chances you have, live life so you can look back and be happy.
Love Requires Sacrifice – This is one of the biggest themes throughout Five Feet Apart – love isn't all "rainbows and butterflies" (as Adam Levine would put it), it requires real work. And the hardest realization can be that if you love someone, you may need to let them go. That is unconditional love, right there.
Five Feet Apart is more than just another romance drama film. It has courage, heart, and it teaches you about the reality of people with CF: missing out on things they love, even being with the person they love, because of this life-threatening illness.
Five Feet Apart comes out in theaters March 15th, 2019. Make sure to like and follow the film on Facebook, Instagram, and Twitter. And also, follow the director, Justin Baldoni (Instagram), and Haley (Instagram), and Cole (Instagram)!
[elisha]