3 Things I Learned in The One I Wrote For You
I recently watched The One I Wrote For You, a wonderful movie made in San Antonio, Texas. It stars Cheyenne Jackson, Christine Woods, Christopher Lloyd, Kevin Pollak, Avi Lake, Cameron Kauffman, and is directed by David Kauffman.
I love that it is a family film and it expresses the power of friendship and the importance of family. The reason why I love this movie so much is because it teaches some valuable lessons that I think all people must know.
I am going to share 3 things I learned in The One I Wrote For You:
Never let the Most Important People in your Life Slip Away ~ "Family First" is a motto my mom taught me when I was little. It is a main priority in my family to put our loved ones first before any other activities. Make decisions based on what is best for everyone. The moments you share with your family make life memorable.

Follow Your Dreams

 ~ Do your best and everything will be great. Do everything from the heart. When you are yourself, you feel great inside. Last Christmas, my mom gave me a special ornament with these words: "girls with dreams become women with vision." When you follow your dream, it will become a reality.

Mantain Your Integrity

 ~ It says in the movie, "It is actually possible to make money doing what you love while mantaining your integrity." I believe it is true. Even though the world says that you have to look, dress, or act a certain way to be "popular" it doesn't matter. It only matters what you believe in your heart. I used to worry all the time about what others would say about me, but know I now that it truly is the inside that counts.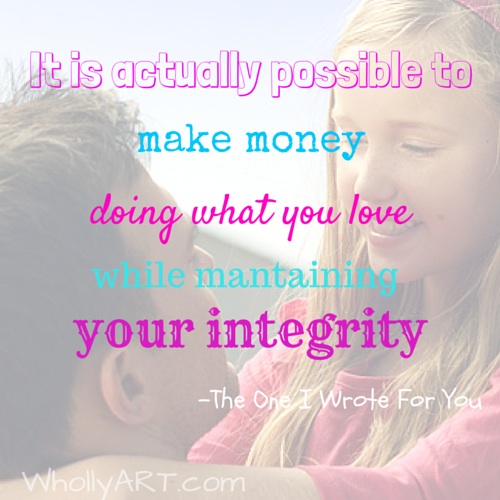 I encourage you to go see "The One I Wrote For You" in theaters December 5th with your siblings, parents, family, and friends. I'm sure that you will love it as much as I did. When you watch it, please let me know your thoughts!
[elisha]