Our Dream Angels Speaking Engagement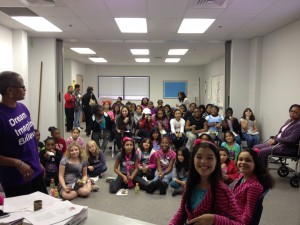 On Saturday 14th, 2013 we spoke to a group of girls at Dream Angels. We were there to teach them about focus and determination to achieve goals. The girls have so many wonderful goals, like going to college and getting a degree.
They were so excited when they got to ask questions. Many girls wanted to have an autograph on their I Love ME! coloring sheets and take pictures with Elisha and I. With all their intelligence, they were teaching me, as well!
Here are 3 things I learned from the girls at the Dream Angels Mentorship Program:
Be like little children                                                                                                                                                                                                                   In Luke 18: 16-17 it says "But Jesus called them unto him, and said, Suffer little children to come unto me, and forbid them not: for of such is the kingdom ofGod. Verily I say unto you, Whosoever shall not receive the kingdom of God as a little child shall in no wise enter therein." What Jesus Christ means is we have to be humble and selfless like little children. When you are a little child you believe you can do anything, but as you get older your self belief fades away.
Be open to being taught. Let people teach and mentor you. Learn more and you will be more successful. "To earn more, you must learn more." ~ Brian Tracy  :-)
  Share your goals and dreams with others.
Your goals are not meant to be kept secret. Share them! Who knows? You could get connected with a person that could help you when you do.
[elyssa]
P.S. You can help the DreamAngels organization by volunteering to inspire the girls by contacting DreamAngels. To find out more go to DreamAngelsInc.org