Our Time At AdventureCon14 in SeaWorld San Antonio
My mom has a blog (just like we do). She blogs about being a single mom, valuable life lessons, and awesome experiences. Through it, she gets some amazing opportunities that we enjoy with her.
This year, we got invited (once again) to AdventureCon14 in SeaWorld San Antonio.
While our mom was in the conference, we got the chance to visit different animals, including Sharks, Fish, Birds, Dolphins (including SHAMU, the killer whale!), Belugas, Seals, Otters, Sea Lions, and even Penguins and Puffins.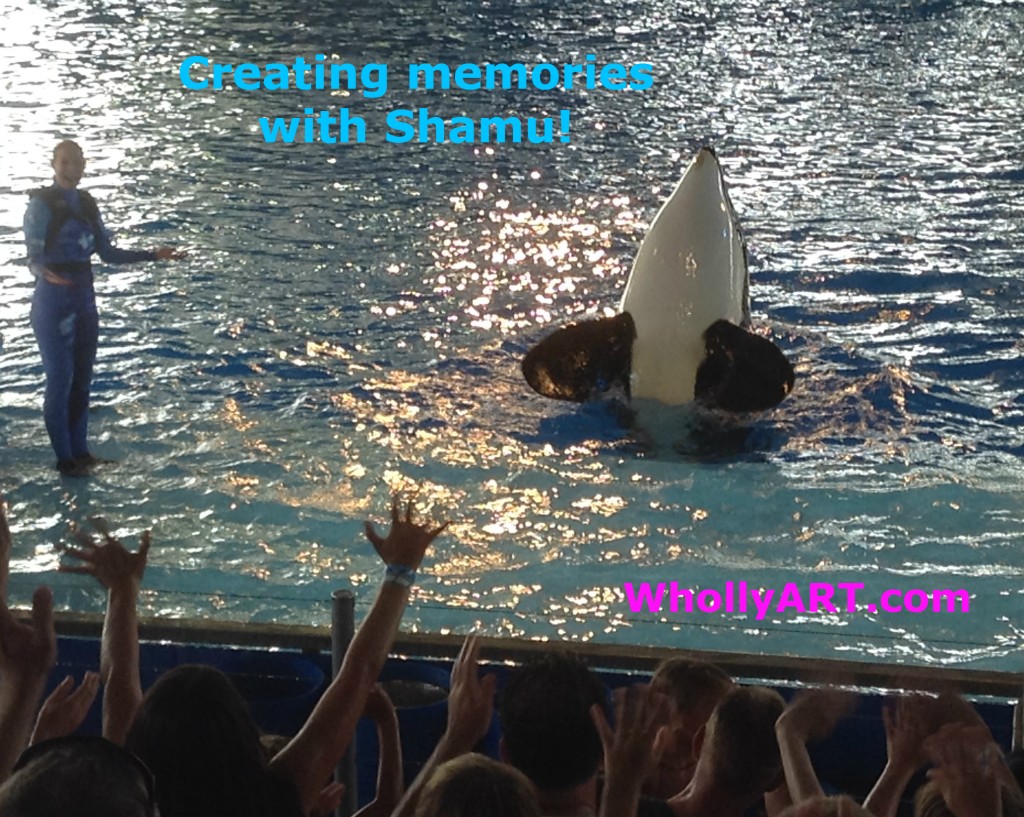 We went to the show One Ocean, where we enjoyed VIP Splash Zone seating. Needless to say, we got VERY wet! :) We also went to Azul, where we enjoyed seeing parrots, beluga whales, and dolphins. I loved the acrobats during the show… they make you so scared and excited that you're afraid to look but you still want to see at the same time!
Besides going to SeaWorld, we went to Aquatica as well. We went on the lazy river, A.K.A. Loggerhead Lane, which led into the newest area of the park, Roa's Aviary. There were so many birds! Peacocks, doves, toucans, and spoonbills were among the many birds there. We also went on the biggest ride, Walhalla Wave, which you really must go on!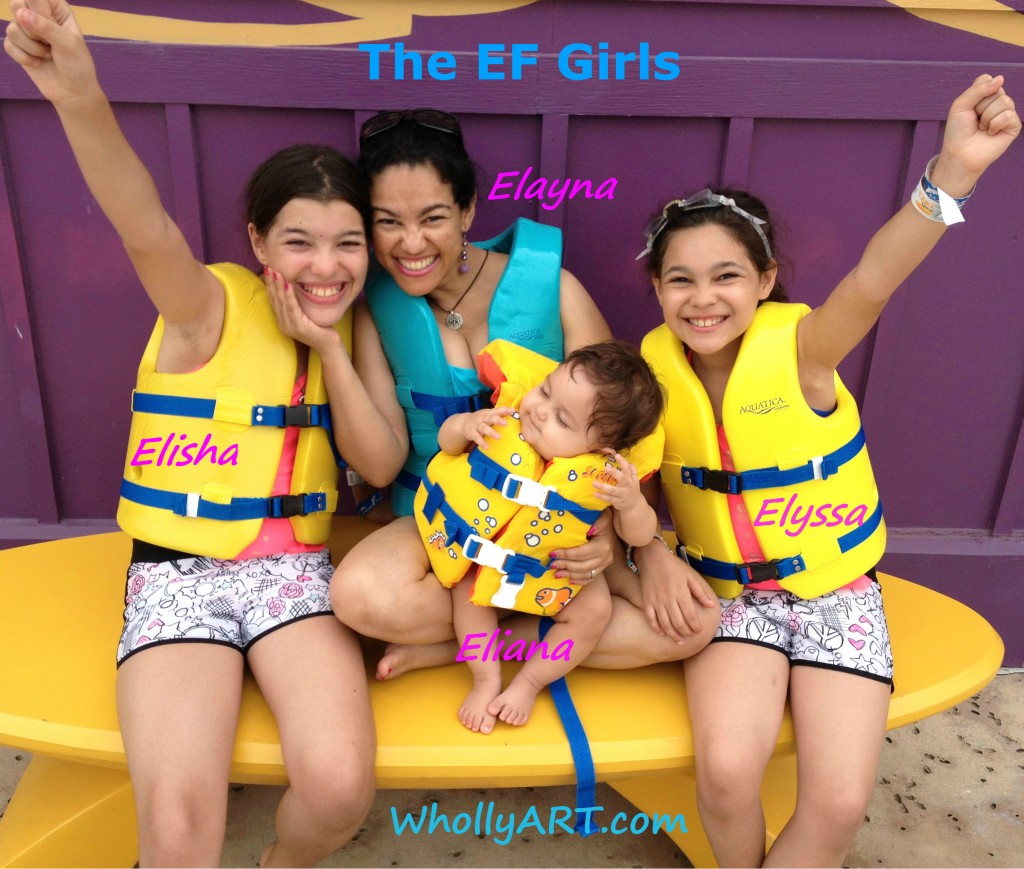 My favorite part of the trip was going behind-the-scenes and meeting some animal ambassadors at the Animal Conservation Center.
We met Star, a beautiful bald eagle (the nation's symbolic animal). She was rescued from Florida because her nest was destroyed by a storm. She and her brother were taken in for examination. Thankfully, her brother was fine and could go back to the rebuilt nesting area, but they soon found out that Star had limited eyesight in her left eye.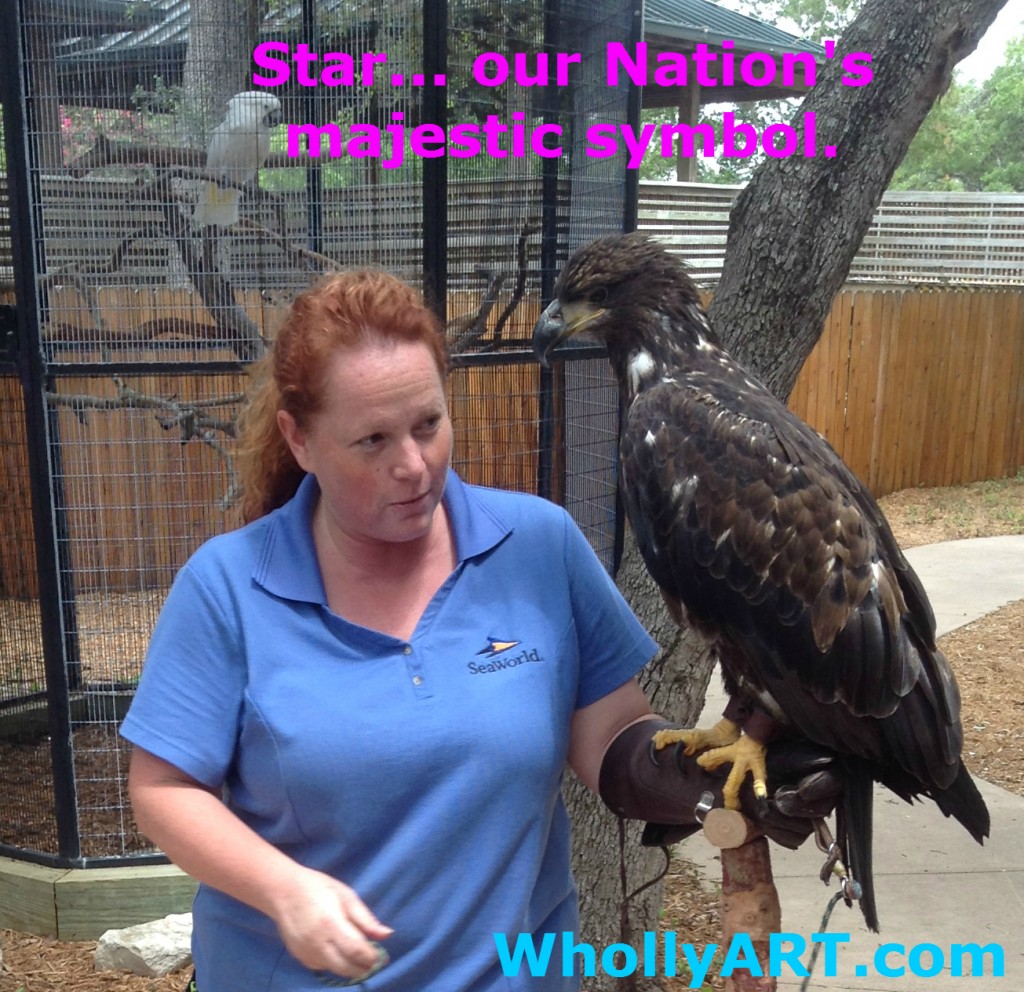 I am happy to say that she found a permanent home at SeaWorld San Antonio and that she is now a full grown bald eagle, with a 6 foot wingspan! Isn't it amazing how God created them?
Now that you know most of what we did at SeaWorld, I want to share 3 things I learned:
     1. The Show Must Go On!
When we were getting ready to watch One Ocean, the screens went pitch black. Someone announced that they were having technical difficulties, but no one panicked as I thought they would. I really admired that all of the trainers and animals stayed calm and went on with the show. When something unexpected happens, go with it. It will save you your sanity and your time. :)
     2. Don't Worry, BE HAPPY!
When we were eating lunch in Aquatica, a band came up and started playing the well-known song "Don't Worry, be Happy". While most people would just continue eating, we got up and started dancing! (Yep, in front of the 100 to 200 people behind us.) Life is so short that we need to make the best of it. Like Tony Robbins says, life is a party and you choose what to focus on. Choose the good part!
     3. Even the Little Things Count!
When we pick up a piece of trash from the ground, or help an animal in need, we are making a big difference. Although it may seem that we are only ONE person, we can work together towards something bigger and greater than all of us. To kids, teachers, parents, and people everywhere, I advise you to set a good example to your siblings, friends, family, and whoever it may be, and you can make this world a better place. Keep in mind that sometimes 1 plus 1 can equal 3.
Please remember these 3 lessons and make sure to use them. Move on, be happy, and do little things everyday to help us strive to make a better future. Like Michael Jackson sings, "If you want to make the world a better place, take a look at yourself and make a change!"
What will YOU do, starting today, to make a change?
[elisha]