3 Awesome Little Life Lessons Learned at LEGOLAND DFW
This post has been sponsored by LEGOLAND DFW. All opinions are my own!
Last weekend, we had the great pleasure of being guests, once again, at LEGOLAND DFW. We love going there as a family because even though it's the same place, it's always a new experience and there are always surprises and special events happening. 
For the start of our LEGOLAND visit, we went to a special 'red carpet' event for the new 4D LEGO movie, and we were greeted by our favorite LEGO friends – Emmet and Wyldstyle. We also got some water and fruit juice.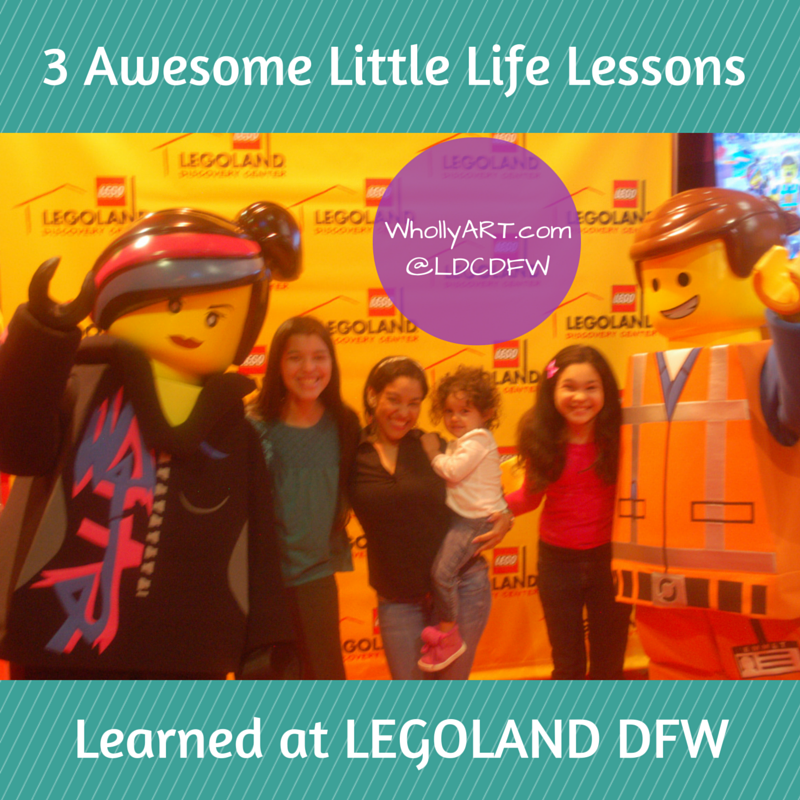 We got to see the premiere screening of the new "LEGO Movie" in 4D, and I agree with my mom and sisters that it was really fun! It really focused on the power of teamwork. We always hear the saying, "Team Work Makes the Dream Work," but do we really know what that means?
When we have dreams that we want to make a reality, but we're not really sure how to get there, what do we do? We go to someone for advice, and get others on our 'team' to support us, because we all know that we are unique individuals and that each of us brings new ideas to the table. We are stronger together because we are different – when uniqueness is combined, genius is born!
[Tweet "When UNIQUENESS is combined, GENIUS is born! #LEGOLANDdfw #WhollyART #Elisha #positivevalues @LDCDFW"]
After watching our movie and enjoying the nice special effects of wind, rain, and "snow," we got some LEGO Movie posters, LEGO bricks, and keychains!
Then…. we watched as the new LEGO Miniland was unveiled for Star Wars Episode II: Attack of the Clones. The detail in each LEGO depicted scene is amazing! It's hard to believe that all those little bricks were used to create such intricate masterpieces.
That brings me to our next lesson learned: the little things really do count. Every little thing, done over time, becomes a habit and becomes bigger. So make sure the little things you do count and are good. Who knows where your little choices can take you!
I really liked the life-size Yoda. He's everyones' favorite character. I mean, what's not to like? Of course, my favorite quote by Yoda will always be a timeless classic: "Do or do not. There is no try."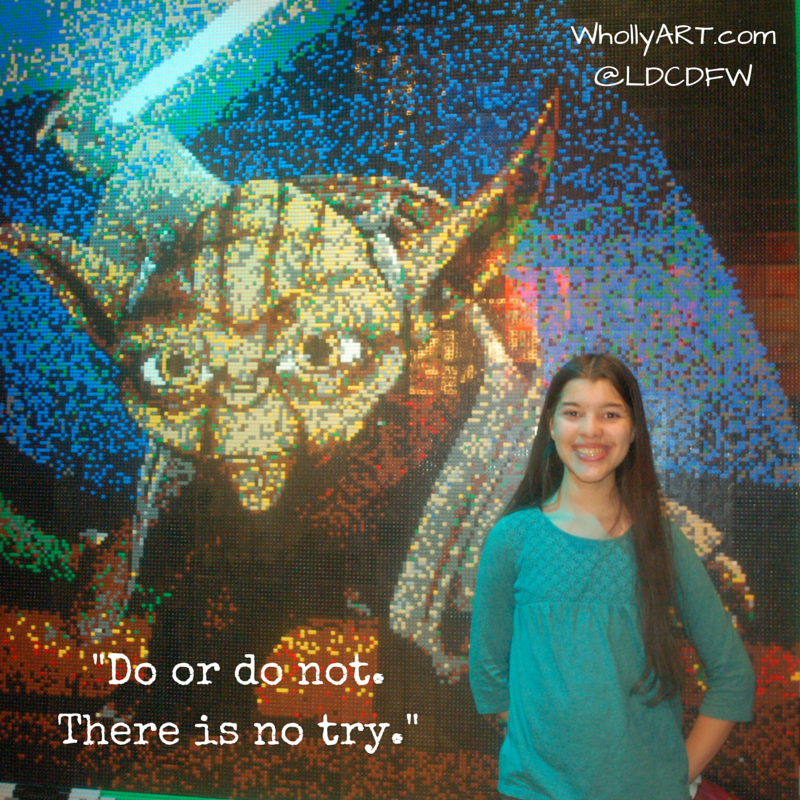 [Tweet ""Do or do not. There is no try." – Yoda #yodaquote #starwars #LEGOLANDdfw @LDCDFW #WhollyART #Elisha #positivevalues"]
I encourage you to go watch the new 4D movie at LEGOLAND, and I can guarantee there is an activity for everyone and all of your family to enjoy. You will love it and have a blast. You won't want to leave afterwards. :)
To close, I'd like to invite you to build your own adventure! Be creative in your life, and never be afraid to express those ideas you have. Build a life with intention, purpose, success, and happiness for yourself, and, most importantly, remember to…
[elisha]