One Way I Love to Connect, Create, and Collaborate
Hello, everyone! I haven't written in a while because I was in Long Beach last week, attending the #WeAllGrow Summit, so as you can see, I'm in the process of catching up right now! So, you might be asking yourself, why do I go to conferences with my mom, take notes, make great connections, get pampered, and do it all again? Said simply, it's because I get to create, connect, and collaborate with others.
Many people argue that I don't get time to be a kid, because I manage my own business, blog, make art, sing professionally, sell books and artwork, and go to conferences. But while I do all that, I do get to have fun and spend time with my family – because of all the wonderful opportunities my "work" it brings.
#WeAllGrow Summit made last weekend one of the best weekends in my entire life! So much sisterhood, learning, and pampering that it almost seemed overwhelming! I want to send a shout out to the #WeAllGrow Summit team and say thank you for your inspiring vision and for creating a safe space for like-minded Latinas to learn, grow, and be themselves.
I love the conference motto, "When one grows, we all grow," because through embracing that we are all unique, you can work together to better influence and impact the world. 
[Tweet "By embracing ourselves, we can work together 2 impact the world. When one grows, #WeAllGrow! #Elisha"]
Conferences are so amazing because sometimes you "know" people through following them around via social media (and sometimes via your mom LOL), but by attending conferences you can finally put a face to the name. I got to meet my mom's friends Trilce, Dania, and Daily, for the first time in forever, after hearing so much about them! 
Also, I have a pending stack of business cards to follow up on… because one of the biggest parts of attending a conference like this is networking! Through #WeAllGrow, many doors have opened and I'm so excited and happy that I'm going to get new and thrilling opportunities to share my #BullyProof story on different outlets… to be announced.
I loved being able to visit #YouTubeSpaceLA and get a tour of the entire facility. Hopefully when I get 10,000 subscribers on my YouTube channel, I'll be able to film there sometime… I loved the keynote on how to improve your YouTube channel, and I definitely got some great tips for getting more visibility and credibility. Now I'm extra motivated to do more with my channel!
Let's talk about the incredible brand sponsors that were at the We All Grow Summit! We got so much swag that our mom had to check 2 (very heavy!) suitcases on our trip back. 
Neutrogena did our makeovers. As you may know, I don't wear makeup often, so it was a real treat to be glammed by celebrity makeup artist Stephanie Flor, get my professional headshot done, and get some Neutrogena products that were selected specifically to take care of my skin. And we all know that though it's important to look your best, and nice to wear makeup once in a while, you're never fully dressed without a smile!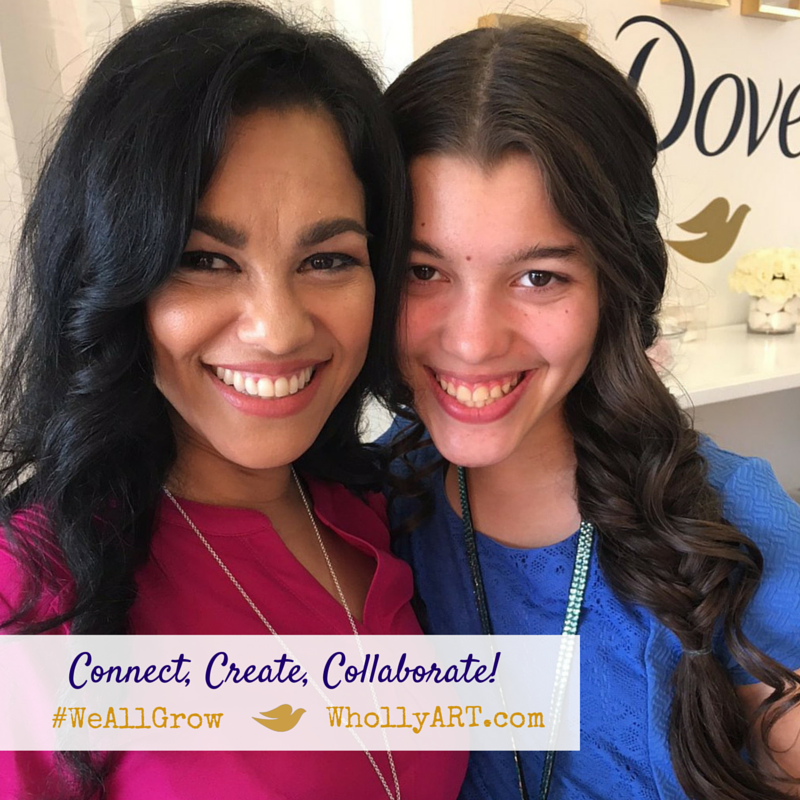 That was my favorite picture in the entire trip, and if you're wondering where my mom and I got our hair done, I'm about to answer that question. Dove also gave us a load of goodies, including Dry Spray (YAY! So excited!), Regenerative Shampoo and Conditioner, and Dove beauty soap bars to last me a lifetime. I have celebrity hair stylist Mario Anton to thank for the gorgeous braid I got to wear for a whole day. I truly felt like a princess. :)
Also, I'd like to thank Dove for their #SpeakBeautiful campaign (which I'll speak more about in a later post), because I truly agree that our words tell valuable stories that describe the defining moments in our lives – so it's important to make our words positive! Christine Gutierrez's keynote had me saying "amen" the whole time. She spoke about how we must crown ourselves in confidence. She said, "We are queens, and this is our queendom!" I agree 100% with her.
Then, we got to hear from a Dove panel (with my mom, Elayna Fernandez) speaking about the caring and loving of yourself. We were all impacted deeply by their beautiful words. Thank you, Dove!
[Tweet "Words tell stories – moments that define us #SpeakBeautiful #WeAllGrow @cosmicchristine"]
Hampton by Hilton hosted a truly wonderful opening reception party with live music by musician Maria Del Pilar, we all had fun at the photo booth (gotta love the props), and we had a group dance-off – needless to say, our legs were exhausted afterwards.
Thank you to Disney Parks for the wonderful and educational keynote lunch, and for the inside sneak peeks on what's up and coming with Disneyland and Disney World – so many exciting new things coming up!
Saborea Uno Hoy truly spoiled us by giving us a delicious vegan breakfast in bed – an avocado tofu burrito, fresh fruit, and orange juice. Thank you for providing us with such a healthy meal to begin a fast-paced day.
MyIntent.org made us fabulous bracelets showcasing the word of our choice. I chose bullyproof… it fits right in with my story and it's the purpose of what I do! Thank you for giving us such an amazing way to use and show our creativity! I love you guys!
Thank you to Colgate, Narciso Rodriguez Parfums, Hola! USA, Today.com, Transitions Optical (Yay to my mom for winning an amazing camera), SheKnows Media, Vicks VapoRub, Aveeno, Pinterest, .ME, YouTube, and all the other amazing sponsors for your time, energy, and efforts to make #WeAllGrow spectacular!
And a big thank you to my mom, for taking me to #WeAllGrow and making this wonderful experience possible for me and Elyssa.
To end our trip, we learned some amazing lessons at #WeAllGrowStorytellers, where 7 inspirational women shared their powerful life experiences on the stage. Marines, Eliana, Nancy, Denise, Yvonne, Gaby, and Kathy, you are strong ladies and your words are moving and incredible. Keep up the good work, storytellers!
I learned, laughed, and even cried at this powerful event and I can't wait to go to #WeAllGrow Summit 2017! I encourage you to find a way to connect to yourself, create something beautiful, and collaborate with others! How will you connect, create, and collaborate?
[elisha]