3 Things I Learned as a Volunteer at The Arlington Homeschool Book Fair
One of my favorite things to do is read, so every year since we moved to Texas, we have enjoyed going to the Arlington Homeschool Book Fair (a very large and fun book fair for parents and kids of all ages). This year we went again, and used 2 hours of our time to volunteer!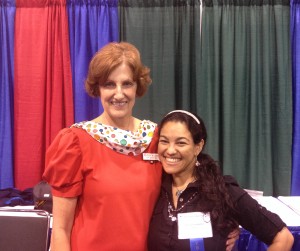 We arrived at the convention center early in the morning, ready for the day ahead. Before our volunteer shift, we went by every booth collecting awesome freebies, shopping for curriculum items, educational activities, and other books, meeting new friends and running into old ones, too.
After that, my mom started her volunteering hours making sure people had name badges. Elyssa and I sat down on a bench until our shift started, and enjoyed the snacks we brought, and browsed through the cool things we had gotten.
Now comes the exciting part. I check in, grab my volunteering badge, and I listen carefully to the instructions the leader gives me. She tells me that, as a "runner," I would ask exhibitors if they need anything and bring back what they asked for (water, food, etc.). As it turns out, being a runner was harder than I thought (even though I was doing more walking than running LOL). Elyssa passed out bags with brochures inside them but I enjoyed being a runner because I got to speak with the exhibitors and serve them.
I learned some important lessons that day very useful when speaking with other people, and I would like to highlight 3 main ones:
       1. Listen Carefully to WHAT they need and HOW they want it done
My mom always tells me that if I want to do a favor for someone, then I should do it how they want me to do it and do what they want me to do. Otherwise, it won't be help to them at all! For example, let's just pretend your mom/dad asks you if you're hungry and you ask them to get you and orange and a cup of hot cocoa. How would you feel if they brought you a strawberry and a cup of water instead? Now you know exactly how another person would feel!
        2. Don't Rush OUT: INteract Genuinely
Something that I found helpful was to not interrupt them rudely or rush the process, but to introduce myself politely, respect their personal space, and ask if there is anything I could do to help them. I found that by doing that, the exhibitors were more likely to express what they REALLY needed at that moment and they didn't feel pressured at all.
         3. Expect Nothing in Return — Except for their Satisfaction :)
The leader shared that we should be humble during our work and not to expect anything from them. I did just that and I received a generous tip of $1.65. It was not required or expected, of course, but it was a kind deed from that person to give it to me. Sometimes, when we do something nice for someone, whether it's saying a kind comment or giving a hug, we get rewarded by God (sometimes in the most unexpected and extraordinary ways).
By volunteering and helping, not only was I able to learn some lessons along the way and feel good about myself… I was also able to enjoy MANY MANY awesome hugs! jejeje
[elisha]