A Trip Back to the Medieval Times
At our week to BlogHer, not too long ago, we had the amazing opportunity to go to Medieval Times in Orlando. Medieval Times is a dinner and show tournament, filled with sword-fighting, jousting, and real live Spanish horses.
Because of my mom's dazzling blogging skills (good job, mom!) we got VIP passes to enjoy our own immensely fun night.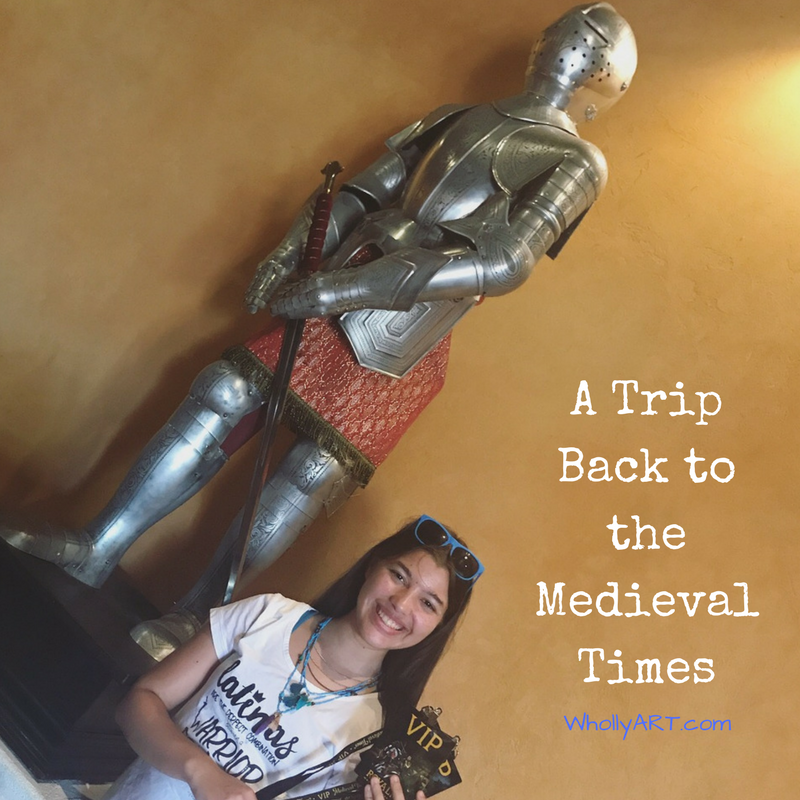 Before the show, we were able to visit the life size Medieval Village. I can't tell you how excited I was, because I'm a history geek, so I was absolutely fascinated to enter this interactive experience of what it would be like to live in "The Dark Ages".
We went on an incredible tour of a replicated village, going through a stable, kitchen, pottery shop, carpenter and welder shed, and a textile shop, learning about the machines these people used in their lives and what was the center of a regular village in these ages. There was also a torture chamber (yikes) which I have to admit is not for the faint of heart, and I'd advise you to be prepared for the, let's say interesting contraptions in there.
I'd have to say my favorite part was the textile shop, they had actual looms that were used to make cotton cloth, and the completed clothing displayed looked so beautiful. I'm surprised that for the limited tools available in that time, you could live pretty comfortably. Though, I'm grateful for technology and Wifi, thank you very much.
After going through the village, we grabbed our tournament crowns and headed through the doors. In the tournament there are 6 sections, each for the 6 knights that compete. There was the black and white knight, the yellow knight, the red knight, the red and yellow knight, the blue knight, and the green knight, which we were rooting for.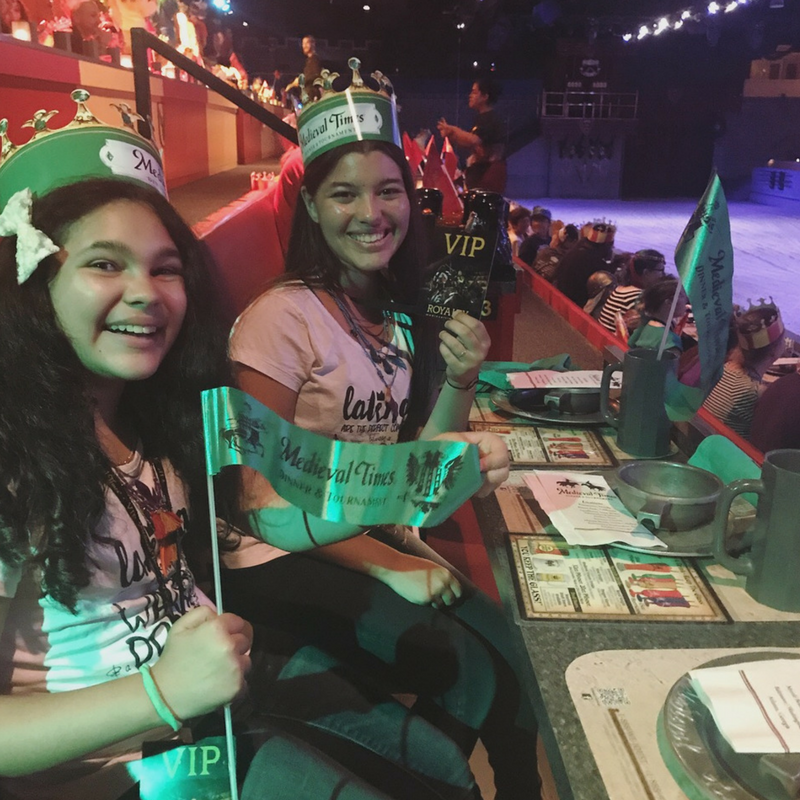 We started the show by watching one of the horses do some graceful footwork in the stadium ring. I loved this quote about the relationship between a knight and his horse:
"In myth and in legend, the Knight and the horse are forever linked. Few things are held in such great esteem by the Medieval warrior than a stalwart horse, who possesses the bold courage of his master and the quiet strength of his ancestors."
I love horses, and it was inspiring to see them in action, prancing, running, and even jumping across the stadium. They're my second favorite animal, and absolutely magical.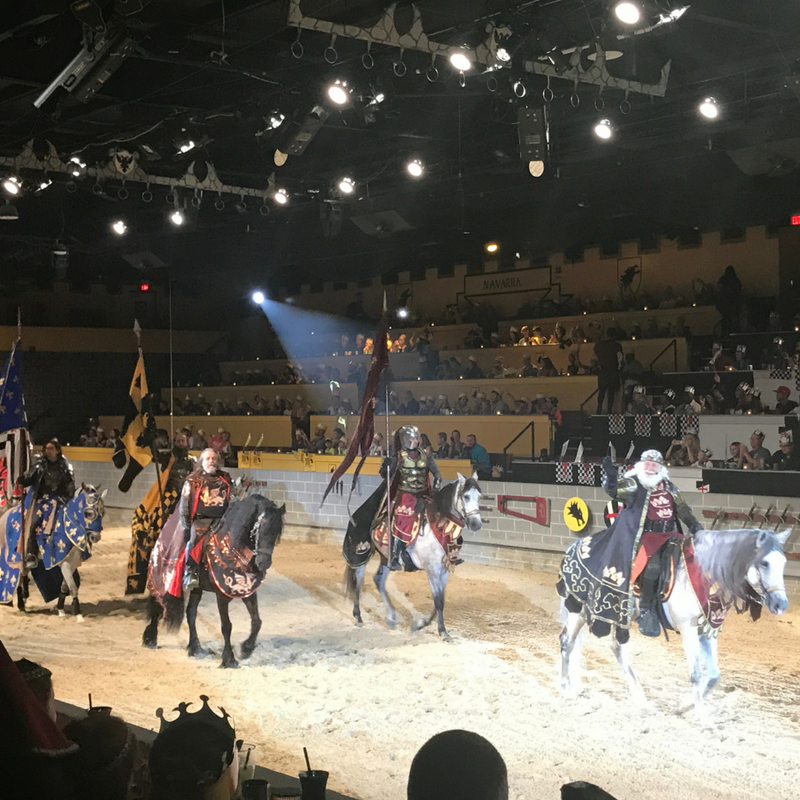 We were pleased to know that at Medieval Times they had a vegan-friendly option for us. We had a delicious tomato soup with garlic bread as our appetizer, corn, a baked potato, and for dinner we got to have a yummy three-bean stew with brown rice and vegetables.
I thought it was great that they had a variety of things to choose from, and it was quite entertaining that although we got spoons for our stew, we ate everything else with our hands. Of course, if you've studied the medieval times, it was custom to eat with your hands and not a utensil. Talk about actually immersing yourself in the culture!
We had such a fun time watching the knights fight to be named champion in the tournament. We watched the jousting and sword fighting with great concentration, and it was quite intense. It's something you have to see to experience the excitement of it.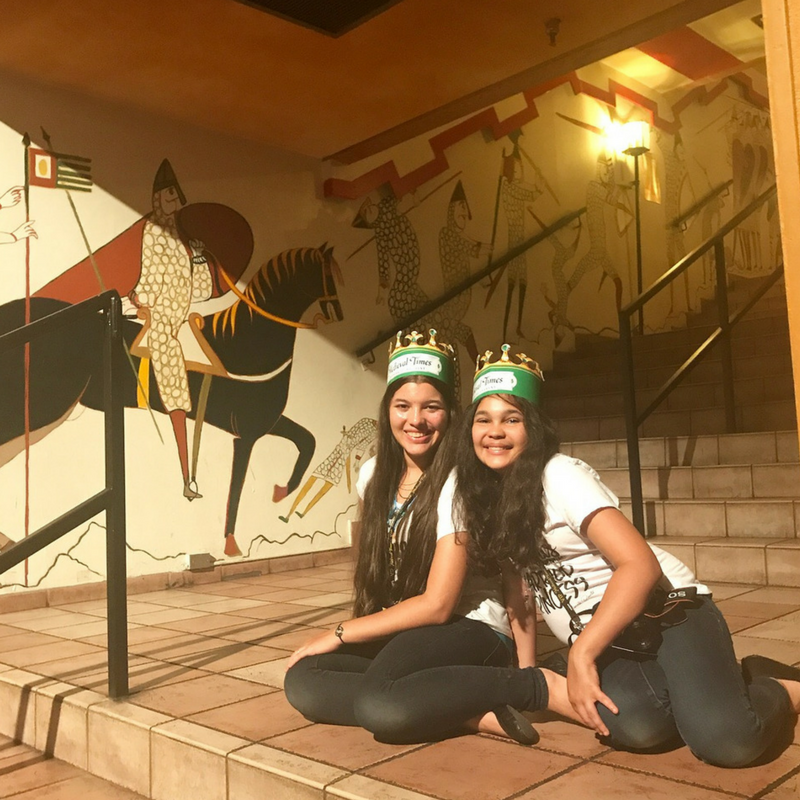 Overall, we had a wonderful time, and I can not wait to go back. I'm so happy we have a Medieval Times in Dallas so we can go again. If you have a
location near you
, I encourage you to go and see for yourself how enthralling and thrilling this is. You will be on the edge of your seat, and it will be an unforgettable night.
Have you gone to Medieval Times?
[elisha]